"I have dark circles, what should I do?" is a very common question asked to our customer service.
Indeed, with all the information available on the internet, it is very easy to feel lost and not know what to use to effectively treat dark circles without danger on black skin. 
Which eye contour should I choose? What complementary care should I use? What cleansers should I use? How long will it take to be effective? Should I resort to cosmetic medicine?
In this article, we'll take you step by step through our anti-dark circle routine, specially designed for black, dark and mixed-race skin.  Our promise: a spotless, unified eye contour area with a radiant, de-fatigued look: without tingling or tightness.
WHY IS MY EYE AREA BLACK?
First of all, you must understand that a dark/brown circle is specific to black skin. It is different from a "classic" blue/purple circle , known as vascular, because the latter is linked to hyperpigmentation of the skin around your eyes. These pigmented circles can be caused by :
- Genetics: It can be hereditary and thus present in several members of your family
- The sun: The skin around the eyes is naturally very photo-exposed, which makes it particularly sensitive to the harmful effects of the sun on the skin.
- Hormones: Due to an increase in the level of hormones in the body following a period of intense stress, the taking/stopping of contraception or pregnancy.
- Post-inflammatory reactions: Black skin is very reactive, so any sensitization such as dermatitis or repeated rubbing is likely to result in a hyperpigmentation spot.
 Therefore, treating dark circles around the eyes is like treating a spot of hyperpigmentation on the skin. Thus, some of the points of this dark circle routine will be similar to our safe anti-spot routine. However, the skin around the eyes is more dehydrated, more sensitive and more reactive, so it requires a specific routine described below.
 

RITUAL AGAINST DARK CIRCLES IN 5 POINTS




1. A CLEANSED EYE CONTOUR, THE STEP NOT TO BE MISSED!
The eye contour is a sensitive area that is very exposed to external aggressions such as the sun or pollution. Makeup is sometimes added to enhance the eyes. However, it can also sensitize your eye contour area depending on its composition and/or its waterproof, long-lasting nature. It is therefore important to opt for a good cleansing that combines "depth and gentleness". 
- Gently remove your eye contour makeup:
To remove your eye contour makeup (eye shadow, eyeliner, mascara, etc.), use My Cleasing Micellar Water Sensitive Skin. Using a cotton pad, gently and non-aggressively remove your makeup so as not to sensitize the skin and/or lose lashes.
- Finish with a good cleansing for a purified eye contour
Morning and night, use My Foam Purifying Cleansing for a gentle cleansing that respects the sensitivity of your eye area. Your skin will be softer, fresher and purified.
Then you can start applying your skin care products!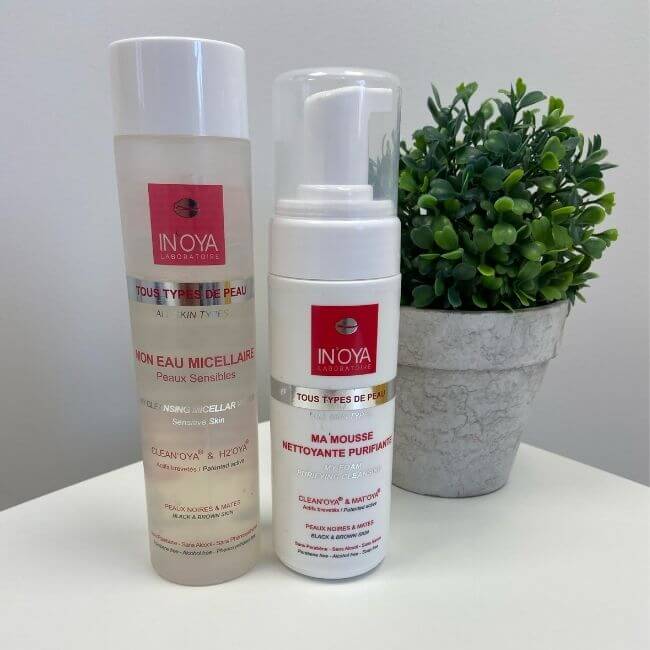 2. The must-have in your routine: Anti-dark circle treatment
When asked, "How do I remove dark circles under my eyes?" Opt for My 3-in-1 Eye Contour  "Anti-dark spot, dark circle, puffiness"
Clinically proven effectiveness against dark circles with a safe guarantee!
It has been studied and designed to address the problem of dark circles around the eyes on black skin. Its patented MEL'OYA EYES® technology guarantees, according to its dermatological and ophthalmological clinical studies, an effectiveness from 28 days of use and results: 90% unifying, 85% anti-spot, 100% ocular tolerance. 
Note that it contains no controversial active ingredients such as hydroquinone or glucocorticoids. It is therefore not lightening. At IN'OYA we want to treat your dark circles without harming your skin or your health!
In addition, its 3-in-1 formulation also guarantees action on your blue circles, hollows and puffiness with a proven 90% reduction in signs of fatigue. In addition, it reduces dehydration lines by 45%.
 Its plus, a roll-on ball for a draining and decongesting self-massage
Morning and night, apply My 3-in-1 Eye Contour "Anti-dark spot, dark circle, puffiness" directly on your two eyelids (lower and upper) and always from the inner corner of the eye to the outer corner. This draining self-massage will boost its effectiveness.  In addition, the "ice cube effect" provided by the roll-on ball brings an immediate decongestion to your dark circles and puffiness. Put your care 5 to 10 minutes in the refrigerator before its use for a prolonged "ice cube effect".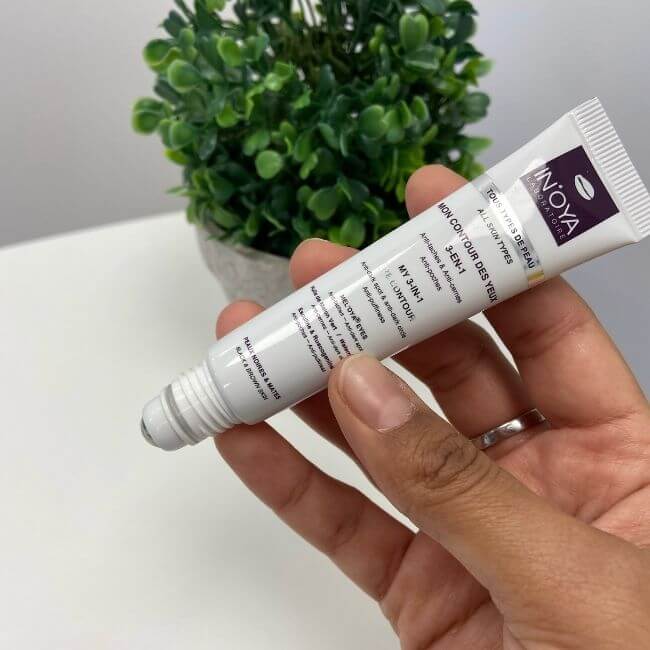 3. A DIETARY SUPPLEMENT FOR DARK CIRCLES FOR AN "IN & OUT" ROUTINE
Nutricosmeticsinvites itself into your skincare routine to provide you with an "IN & OUT" care protocol. The objective is to act from the inside and the outside on your dark spots around the eyes to obtain an optimal efficiency.
Thanks to its patented MEL'OYA CAPS® anti-spot technology, My Dietary Supplements Unifying & Radiant Complexion your pigmentary dark circles over a period of 1 to 3 months with one capsule (vegan) per day, preferably in the evening with a glass of water. This cure is renewable twice a year. 
4. PROTECT YOUR EYE AREA FROM THE SUN
We can't say it enough: black, brown and mixed-race skin is also sensitive to the harmful effects of the sun. These include skin dehydration, the appearance of fine lines and the creation of dark spots or dark circles. 
For an effective treatment against dark circles, apply My Sun Fluid SPF50 to your eye area every morning as the last step in your routine. If possible, and if you are not wearing makeup, we recommend that you reapply it during the day. 
5. MOISTURIZE, REPAIR AND PROTECT: THE KEY WORDS FOR A HEALTHY EYE CONTOUR
Treating those dark circles while enhancing your eyes is possible thanks to My Regenerating Repairing Elixir Composed of REPAIR'OYA® technology, it moisturizes your eye contour area. It also plumps up the fine skin of your eyelids and protects it from external aggressions.
My Regenerating Repairing Elixir is the finishing touch to your nightly routine. Apply it every night after My Eye Contour 3-in-1 "Anti-dark spot, Anti-dark circle, Anti-puffiness". Your skin will be hydrated, lifted and repaired.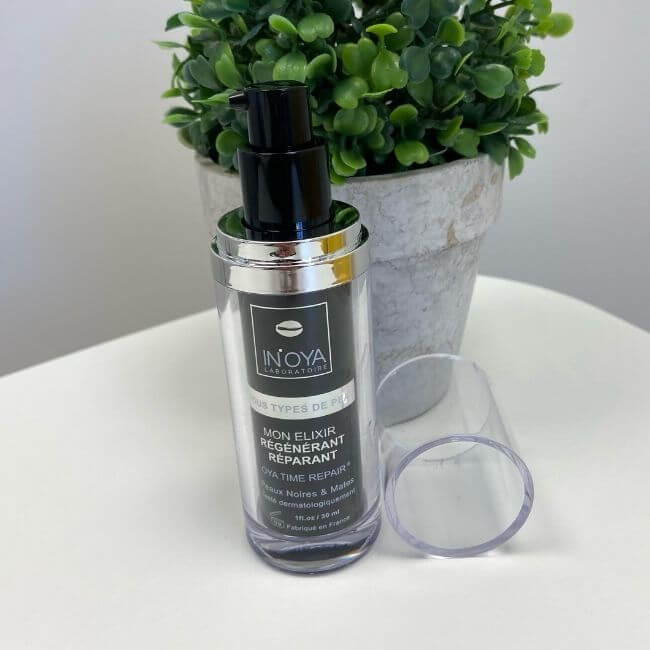 HOW CAN YOU BE SURE THAT THIS ANTI-DARK CIRCLE ROUTINE IS EFFECTIVE?
Having a good routine is essential to effectively treat those dark circles. To have confidence in it, it must be guaranteed to be effective and safe. Don't hesitate to consult the before-and-after testimonial of Fadia who tested this same routine for 28 days.  
You prefer a video format? Discover the opinions of 3 clients who tested this routine in video preview.
"Immediate decongesting effect"

"My eyes are less tired"

"I feel my eye contour is unified"

"My skin is like lifted, my fine lines have disappeared"
And you, what will you feel?