CLEAN'OYA® My Foam « Purifying Cleansing »
My Foam « Purifying Cleansing » is ideal for dark and olive skin. It deeply cleanses and purifies skin while respecting its natural balance.
Its dual technology ensures gentle cleansing and a remarkable result to leave skin soft, refreshed and purified.
EARN 80 POINTS BY PURCHASING THIS PRODUCT!
> You need to be a member of the OYA Club to benefit from these points
This product is no longer in stock
Availability date:
My Foam « Purifying Cleansing » gently and deeply cleanses skin without irritating sensitive skin.
Developed using the patented dual « CLEAN'OYA® and MAT'OYA® » technology and ideal for acne-prone dark skin, My Foam « Purifying Cleansing » offers a powerful dual cleansing and mattifying action.
The patented « CLEAN'OYA® » technology deeply cleanses and purifies skin. It also helps clear blemishes and effectively eliminates impurities that accumulate on skin.
Thanks to the « MAT'OYA® » technology, excess sebum is eliminated and the complexion is left glowing. Skin is left mattified with a more refined texture.
The fruity fragrance comes from a combination of lemon and guava for a fresh, pleasant scent. The creamy texture of My Foam « Purifying Cleansing » leaves skin feeling soft, comfortable and refreshed.
Soft, smooth and clear skin
Deeply cleansed and purified skin
Soothed, purified and glowing skin
Patented dual technology, CLEAN'OYA® and MAT'OYA®, for clean, mattified and soft skin.
Cleansing and purifying action:
CLEAN'OYA®: A combination of powerful and innovative actives that gently cleanse skin and remove make-up from the face and eyes. The H2'OYA® active leaves skin soft and deeply cleansed, free of impurities. Sensitive skin is left soothed with a natural, glowing complexion.
Seboregulating and unifying action:
MAT'OYA®: An innovative active (international patent WO2007/029187) derived from Enantia chlorantha, a tree native to Cameroon. This active is rich in protoberberines and oleanolic acid, which has a remarkable action on the proliferation of sebum-producing cells (sebocytes) as well as 5 alpha-reductase, helping to reduce sebum production at the source for dark and olive skin.
Ingredients:
Aqua (Water), Decyl Glucoside, Cocamidopropyl Betaine, Glycerin, Caprylyl/Capryl Glucoside, Sodium Cocoyl Glutamate, Salicylic Acid, Zinc PCA, Xylitol, Enantia Chlorantha Bark Extract, Bisabolol, Anhydroxylitol, Coconut Acid, Sodium Lauroyl Oat Amino Acids, Xylitylglucoside, Chlorphenesin, Sodium Glutamate, Sodium Benzoate, Potassium Sorbate, Butylene Glycol, Sodium Chloride, Parfum (Fragrance), Citric Acid, Linalool, Oleanolic Acid, Limonene
Our ingredients from Pharmacope AFR'OYA:
Apply My Foam « Purifying Cleansing » in the morning and/or evening on damp skin and massage with the fingertips, focusing on the T-zone (forehead, nose and chin). Rinse thoroughly with water.
For luminous and even skin, you can then apply My Corrector Unifying during the day.
For personalised advice, you can contact your pharmacist or send us an email at contact@inoya-laboratoire.com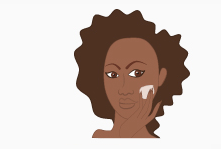 Apply My Foam « Purifying Cleansing » on damp skin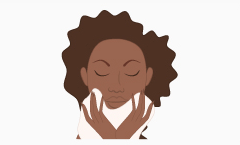 Gently dry your skin with a cloth.
Apply My Corrector Unifying
Related articles in the OYA Blog
Say goodbye to spots and acne!
The figures speak for themselves: nearly 80% of women with dark and olive skin suffer from acne, and not just as teenagers! This very common skin problem can be extremely bothersome and often leaves undesirable marks on the skin. So what do you...