Side effects of using skin whitening products
You may know it as "xeesal", "leeral", "akonti", "ambi", "cha", or "bojo". Voluntary depigmentation  of the skin is the cosmetic use of whitening creams to lighten the skin for "aesthetic" purposes. This phenomenon is still a reality today, often unacknowledged.
Natural or synthetic, these products can be harmful to human health. Among the most dangerous, hydroquinone and corticosteroids are on the first steps of the podium. Mainly available for medical use to treat skin diseases, it may also be present on parallel market. Worse, it can be hidden from the user in cosmetic creams that do not comply with the regulatory compliance. It also sometimes happens that the concentration of the asset indicated on the packaging is deliberately falsified. It also happens that the active ingredient concentration indicated on the packaging is deliberately false.
For example, an analysis campaign conducted in 2006 on 60 cosmetics marketed in African shops and hair salons in Switzerland revealed that 75% were non-compliant due to the presence of banned substances or exceeding the maximum level established under law.
In addition, in 2009 and 2010, Afssaps and the DGCCRF carried out a national campaign to control 160 whitening cream. About 30% in 2009 and 40% in 2010 of products were non-compliant and dangerous for human health because of the presence of prohibited substances (mainly hydroquinone and corticosteroids).
English subtitles are available ! 
What are the dangers of lightening creams?
Side effects related to the use of whitening creams are most of time cutaneous. Often, there is a  non-uniform depigmentation and the skin color tends to yellowish. When it's used on large surfaces, especially in wet conditions, systemic effects can appear. In the long run, these effects can have serious repercussions on human health and even lead to premature death.
Let's see in detail the specific complications of depigmenting actives ingredients…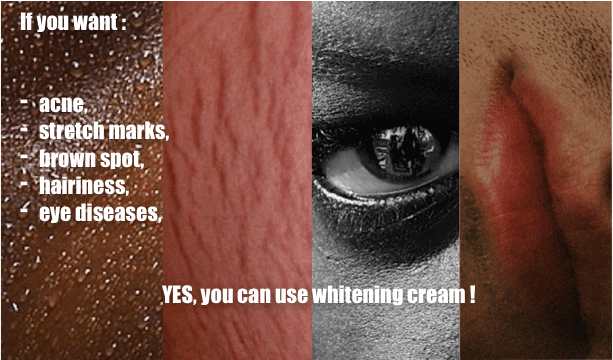 Whitening active ingredients cosmetics with European ban
Hydroquinone : hydroquinone, méquinol
Corticosteroid : clobetasol propionate, betaméthasone dipropionate, bétaméthasone valerate, aceponate hydrocortisone, difluprednate, fluticasone, desonide, hydrocortisone butyrate, diflucortolone valérate, amcinonide, fluocinolone acétonide, fluocortolone, hydrocortisone
Mercury derivatives : chlorure mercurique, chlorure mercureux, oxyde de mercure, chloramidure de mercure, thiosalicylate d'éthylmercure sodique (thiomersal), propionate phénylmercure
Retinoid : adapalene, isotretinoïne, tretitinoine 
How to recognize a lightening cream?
L'hydroquinone
Skin

Periorbital hyperchromia, which is a hyperpigmentation around the eyes, is one of the most frequent manifestations. During prolonged use, a paradoxical hyperpigmentation can also be observed in sun exposed areas. Known as exogenous ochronosis, this pigment disorder disease makes the skin rough and thick. It can also be associated with a blue gray pigmentation of the auricle. "Nodular" pimples are also observed in many cases.

Moreover, hydroquinone is toxic to the cell and causes melanocytes death. The collagen fibers lose their elasticity which gives the skin a "rippled" appearance and causes poor healing of wounds.
Systemic effects
Cases of cataracts have been identified and skin cancer risk is suspected.
Pregnancy and breast feeding
Hydroquinone is suspected to be mutagenic (it could cause DNA changes leading to cancer development).
Corticosteroid
Skin

Corticosteroids reduce the immune system, which protects us against many infections. The skin is thus much more vulnerable to microbiological aggressions. The fungal, bacterial or viral infections are increased. In addition, corticoids application on weakened skin : it is common to note the appearance of large stretch marks and skin thinning, revealing the vascular network, and the cause of poor healing.

 

Other skin side effects may also appear :

-    pustular acne

-    eczema

-    hirsutism

-    buttons around the mouth

-    very light, red and weakened eyelids
Systemic effects
Beyond skin effects, systemic effects can also add up with a prolonged use.
A hormonal imbalance, called Cushing's syndrome, is observed by a chronic obesity of the upper body and an inflated facies. Irregular menstruation can also appear.
High blood pressure, diabetes and bone fragility are also the result of intensive corticosteroid application.
There are also a risk of glaucoma and cataracts.
Pregnancy and breast feeding
Fetal risk and obstetric complications is mentioned, especially with a low birth weight and a predisposition for the child to develop cardiovascular, metabolic or neuroendocrine disorders. A poor cesarean scarring risk is also mentioned.
Mercury derivatives 
Skin
Allergies are the most common skin manifestations. Mercury deposit in keratinocyte also causes discoloration and fragility of the nails. In the long term, they cause a paradoxical hyperpigmentation due to the mercury accumulation in the dermis.
Systemic affects
There is a risk of end-stage renal failure. A neurotoxic effect has also been observed.
Pregnancy and breast feeding
Mercury derivatives can slow the fetus brain development causing intoxication risks in the newborn.
Note: Only sodium ethylmercury (thiomersal) and phenylmercury are permitted as preservatives at a concentration of not more than 0.007% mercury (bacteriostatic properties).
Retinoid
The main side effects found with retinoids are located on the skin :
-    burns
-    tingling
-    erythema
-    dryness
-    desquamation
Whitening active ingredients authorized but used with caution
Azelaic acid: itching, burning, pain, drought
Glycolic acid: risk of hyperpigmentation in dark skin, burns, dryness
Arbutin: risk of melanotoxicity by rapid conversion to hydroquinone in the body
Kojic acid: risk of allergies and severe irritations: use restrictions on damaged skin and large areas of skin
Behaviour and Laboratoire INOYA's solutions
Of course, it is important to stop immediately the whitening cream at the exception of the steroids : the stop must be progressive. Besides, the doctor often prescribe corticoids of lower intensity in a first time.
If one or more symptoms, skin or systemic, cited above is found; medical consultation is strongly advised.
In all cases, strict sun protection must be apply every day because the skin is damaged by lightening cosmetics and the sun may worsen the lesions. My SUN'OYA® My Sun Fluid SPF 50 is an optimal protection with 0% of white marks even on the darkest skins.
It is also essential to avoid friction which could lead to weak skin. To cure brown spot problems due to depigmentation, Laboratoire IN'OYA has developed a large product range for black, matte and mixed skin.
MELOYA® product range : for no longer brown spots
MEL'OYA® My Correcting Serum regulates the melanin pigments synthesis, at the origin of the brown color of the skin. It also activates the cellular renewal. In 28 days, spots are visibly reduced and unify skin tone.
The other products in the range (day cares and body milk) help to continue the cure. You can use both with the serum or alone to prevent the appearance of new brown spots
To read this article in full, log in or register at OYA CLUB!
---
Read the whole article
Add to favourites