What could be more normal than wanting a glowing complexion for your black skin? A healthy skin is naturally luminous, free of imperfections. However, this desire is sometimes "used" by advertising to promote formulas containing lightening agents, or even depigmenting creams. However, these harmful products depigment the skin in depth and are likely to cause serious damage to health: spots, acne, serious burns, etc.
Sometimes we may have wanted to lighten our skin voluntarily and we regret it. Fortunately, there are solutions. Based on your testimonies about these experiences, we explain how to choose the right cosmetics to keep or find a beautiful skin.
False information, miraculous advice against spots: we help you to avoid the most frequent traps around the ranges intended for dark skins.  
USING LIGHTENING PRODUCTS BY MISTAKE

 
One can want a unified and radiant skin without necessarily seeking to whiten it. The nuances between the different terms used by the cosmetic industry are sometimes confusing. This leads consumers to make purchasing errors. Here are some decipherments. 
WHAT DOES IT MEAN TO HAVE A RADIANT COMPLEXION?
Having a luminous face is a sign of good health, it is synonymous with a beautiful inner energy. The opposite of a radiant complexion is a dull, tired complexion. The features are drawn and are synonymous with a bad complexion, a general decline in form. 
The desire to have a radiant complexion concerns all skin tones. From the lightest to the darkest skin, this desire is legitimate and has nothing to do with color! Thus, many people with black, mixed or even dark skin want a radiant complexion, without necessarily seeking to lighten their complexion or depigment themselves voluntarily. 
But some unscrupulous salespeople blur the lines. They deliberately use expressions around the lexical field of light, clarity, even whiteness to convince their public to buy their "miracle" range. 
This is how some victims of these dishonest advertisements will apply lightening cosmetic products, without ever suspecting that they have depigmenting properties.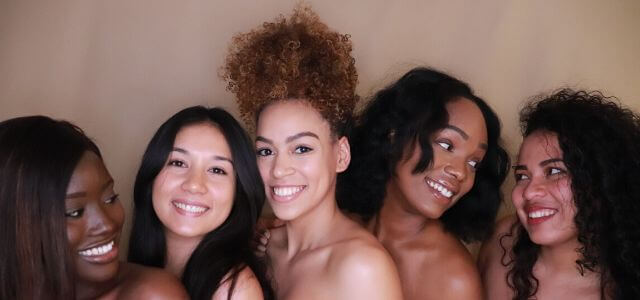 CHOOSING THE RIGHT COSMETICS FOR A GLOWING COMPLEXION
To avoid this type of situation, learn how to choose your cosmetics properly. This means, above all, carefully reading the list of ingredients on the packaging or the descriptions provided on the e-commerce site. Also, be vigilant on other essential points. When you make a purchase in a store or online, be sure to get information beforehand: 
This is why the patented MEL'OYA® technology, developed in a laboratory to treat brown spots, is presented without using the word "lightening". The brand's intention is clearly stated: not to mislead you and create confusion. 
However, this term would be very "selling"! The active ingredients really do have a unifying power. But this formula, unique and safe, does not contain depigmenting agents (hydroquinone, corticoids, etc.). It illuminates and reveals the natural radiance of the skin without ever lightening it. 
BEWARE OF "MIRACLE" TIPS TO TREAT HYPERPIGMENTATION SPOTS

 
Hyperpigmentation spots are often the result of the use of risky products. They form when there is an unusually high production of melanin. This is due to various factors: sun exposure, pregnancy mask, etc. 
While certain preventive measures such as sun protection can help prevent their appearance, it is perfectly natural to want to remove your pigmentation spots. However, suffering serious side effects to remove them is not reasonably acceptable. 
THE IMPORTANCE OF GETTING ADVICE FROM SKIN SPECIALISTS
Unfortunately, access to real dermatological advice is still limited in some parts of the world. This lack of medical advice leads people with dark spots to apply inappropriate products or resort to controversial methods. 
Advised by friends or family, you may be influenced without checking the validity of the recommended solutions. These ideas are sometimes so ingrained in your environment that it is difficult to question them. 
If access to dermatological consultations and specific care for black, mixed race and dark skin were more widespread, you could be better informed. 
DARK SKIN ISSUES ON THE WEB AND SOCIAL NETWORKS
Communication around the problems of dark skin is therefore essential. It is fundamental to make dermatological care advice more easily accessible to everyone, especially those related to depigmentation. 
The Internet can help reduce the impact of misinformation that is still too present and responsible for serious consequences on the skin. But social networks are also a way to transmit false recommendations. You should therefore be careful about advertising and selling lightening ranges on these channels: Instagram, Tik Tok, Facebook, YouTube, etc. 
The people who sell these whitening cosmetics rely on their notoriety. They use their power as influencers to seduce an increasingly young public. These "new stars" are sometimes themselves ill-informed about the harmful composition of the products whose effects they boast about! Consequently, these "false experts" do not realize the scope of their actions and put you in danger without necessarily knowing it. 
However, fading or even erasing spots on the skin without danger: it is possible! There are safe, effective skin care products without side effects that are adapted to pigmented skin. 
This type of range with clinically proven patented active ingredients includes: 
Anti-spot routines adapted to each skin type
The health professionals behind their design are also working to provide you with a better understanding of your skin's needs, whether it is dark or matte. You will have free access to quality content:
Publications and interactions on social networks to educate you

Beauty, wellness, makeup and hair tips
UNDERSTANDING VOLUNTARY DEPIGMENTATION
DEFINITION OF A CULTURAL OR SOCIAL PHENOMENON
Voluntary depigmentation is the desire to have lighter skin by using specific products or techniques (chemical or natural). Generally speaking, the desire to depigment is rooted in cultural or social phenomena: the cult of whiteness, the lack of African representation in society, preconceived ideas about success, etc. 
You should not feel judged if you feel the need to have lighter skin. For some of you, this quest hides a real suffering. Regaining your self-esteem and pride in your identity is the first step to feeling good about yourself and your skin color. 
Benefit from a real listening, have access to testimonies, understand where this need comes from: here are some tracks to gain self-confidence and love yourself naturally. 
DESIRE FOR DEPIGMENTATION: A PERSONAL JOURNEY
The association Esprit d'Ebène works in this direction through their awareness campaign. We discover beautiful testimonies of people telling how they decided to stop bleaching. Generally, they made this choice because they finally felt understood and not blamed for their desire to depigment. 
The important thing is to understand what is behind this need. Being able to be heard without being judged allows you to think about stopping the depigmentation process. Are you in this situation and don't dare talk about it? Rest assured, you can benefit from personalized support to take care of your skin differently. 
In'Oya Laboratory consultants will answer all your questions: pigmentation spots, depigmentation, side effects of whitening agents, etc. They listen to you and inform you with kindness from a distance. If you live in Senegal, or are visiting the country, you can also go to Dakar, in a new unique place dedicated to the beauty of black, dark and mixed skins.
Add to favourites