Nude makeup has been a trend for several seasons. In spite of its natural aspect, this make-up can seem complex to realize. For black and mixed race skins, the choice of colors can be difficult.
Do you want to know what nude makeup really consists of ? Do you wonder if it can be worn on all occasions ? INOYA guides you and gives you the essential steps to succeed.
What exactly is nude makeup ?   
 Nude makeup that is well done is not noticeable. You don't look like you're wearing makeup when in reality you are. This style is sometimes confused with no make-up or "natural" make-up. The goal is an embellishment using natural shades, adapted to the color of the skin. This process does not only use tone on tone. Thus, depending on the parts of the face : eyes, lips, T-zone, cheekbones, you will enhance your initial tone.
The nude make-up is made up of delicate reflections :
-          The healthy-glow effect is subtly revealed
-          The technique gives a luminous glow
-          Shades blend seamlessly together
-          The tones are in harmony with your skin tone
For black and crossbred skins, these characteristics are not always detailed and clearly explained. A nude makeup tutorial will be useless, however, if you don't know which colors of makeup products to choose. With 39 skin tones for black skin, it is therefore essential to know your own. This selection is crucial for a successful makeover. With standardized names, such as golden, caramel or chocolate...it's easy to get lost in it. Nude make-up for dark skin.
Thus, one should not confuse the color of one's skin with the undertone. One can have black skin and a cold undertone. In the same way, the mixed skin, rather clear, reveals a warm undertone. To determine with certainty what your skin tone is, we invite you to consult our complete guide. You will be able to find your ideal nude style according to your skin tone.
When to make a nude makeup ?
With its sober aspect, some of you hesitate to decide for nude makeup for any occasion. Do not doubt any more, you can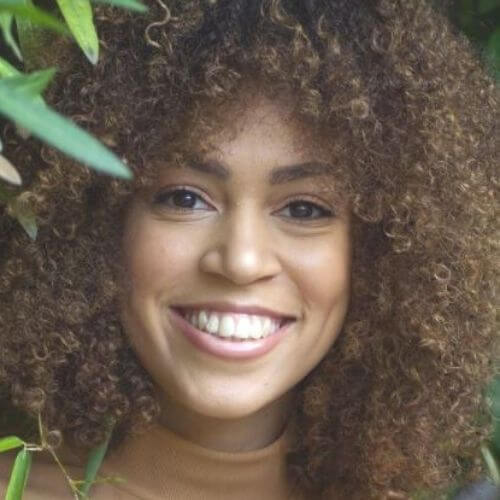 adopt it in the everyday life and even in the evening. On the investment side, your palette of nude shades will quickly pay for itself. Here is a reminder of the moments when this beauty makeup is recommended:
Particularly indicated in daily make-up. With its natural look, it meets many requirements of the business world. Light and delicate, it highlights you without being too conspicuous. Practical, it adapts, moreover, to all outfits!
For an impromptu evening or a last minute outing, the assets are numerous. You can realize your make-up at the beginning of the day. You will grant yourself a simple refreshment at the end of the afternoon. It's perfect if you can't go home after work.
Finally, for a wedding, nude makeup is ideal. Your beauty makeup must be impeccable. The party will go on until the end of the night, but forget about flashy or very glittery colors that are not very flattering during the day. Moreover, this trend is suitable for any wedding season.
The nude makeup is declined to infinity. However, there is not one technique that is valid for everyone, all the time. Beneath its simple appearance, this makeup is in fact more complex than it seems.
You will adapt the gestures and the number of products to be applied to create variations. The method will be more or less sophisticated depending on the desired end result. In any case, certain steps are essential for a zero-defect effect. 
What steps for a nude makeup ? 
The purpose of this make-up is to reveal the radiance of your complexion. No matter when you do the nude makeup, don't forget the cleansing. With a soft care, remove impurities from your skin, but also any traces of makeup or lipstick.
For a resplendent mine, take a particular attention to the hydration of your face. Choose a cream with a light and fluid texture adapted to your skin type. By using skin care products that are appropriate for your needs, you will help to naturally unveil the original beauty of your skin. It is thus prepared to receive the complexion products. 
The work of the complexion : essential for a bare skin effect
This is the most important step for nude makeup.  Some professionals recommend the application of a primer. This complexion base smoothes out irregularities. It allows the pigments to hold better by acting as a barrier. However, as it is silicone-based, it limits the oxygenation of the skin tissue. Its use is therefore to be reserved for exceptional events.
At INOYA, we want above all to sublimate the color of your skin. Thus, we offer a nude makeup video tutorial for everyone :
You will find its detailed version below. You will sometimes see more complex methods. For an everyday beauty makeover, these 5 essential steps are just perfect. You will obtain an ideal nude complexion :
Prefer a fluid foundation or a water complexion. The BB cream is also suitable. The use of a flat brush is recommended to create an absolute fade and avoid demarcations. A small cushion or "cushion" is also an effective tool to unify in transparency.
Does your skin have imperfections such as pimples or scars? A few touches of concealer, concealer stick or blur cream will blur these imperfections.
The application of a concealer, if the underside of the eye is darker, will lighten your look naturally. Choose a shade that is slightly lighter than your skin tone for optimal results.
To add light and sculpt your face, apply an illuminator or Highliter to the T-zone.
With a special blush brush, sweep your blush over the cheekbones, moving up towards the temples. For more transparency, opt for a liquid version. This translucent texture is ideal. Spread three drops on each side and stretch the material in small circles upward.
Subtle and luminous radiance on the eyes
It is sometimes complex not to be mistaken in the colors to be applied on the eyes. The nude of Alicia Keys will be different from that of an ebony skin like Lupita Nyong'o. How to find your way around ? We often read - wrongly - that the shades for "nude black skin" are only composed of brown or taupe shadows. This is a shortcut : black skin is plural !
Your tones will vary according to your previously revealed skin tone. The satin texture, rich in pigments, is to be preferred for black and mixed skins. The semi-matte effect may be suitable but beware of powder formulas. They generally give a dull result. Thus, you will make your choice among the greatest trends of nude palettes :
beige, brownish pink
golden, copper, mocha
Chocolate, dark iridescent
Once this selection of colors has been made, the gestures are, on the other hand, relatively simple. The lightest and most luminous blush of the palette will be applied to the inner corner of the eye and on the eyebrow arch. The darkest will be reserved for the outer corner, at the level of the lashes.
With a few diagrams, the marks easily indicate the possible shades between 2 or even 3 associated colors. You can also watch videos on youtube. But here again, beware: you will find more or less sophisticated techniques!
In fact, for a beautiful nude look in everyday life, a single color pose will be enough. You can melt the eye shadow with your finger or with the foam brush on the mobile eyelid. A black eyeliner is not necessarily essential. But with a fine line, it can subtly underline the look. A hint of clear kohl pencil along the inner mucosa is possible.
Brown, black or transparent mascara will enhance the whole look. Stay in a choice of sober colors. Structuring, the work of the eyebrow will balance the beauty of your face. If your eyebrows are rather sparse, you can thicken them with a tone-on-tone pencil. Densify them lightly by tracing small fine hatchings at an angle, then brush upwards.
Nude lips : which color to choose ?
In the nude spirit, the mouth is sublimated discreetly, but it is made up. It must appear smooth and soft for a successful enhancement. So beforehand, moisturize them carefully with a nourishing balm.
The lipstick will simply illuminate the natural shade. To embellish your smile while respecting the nude trend, opt for a delicate tone while transparency. Satin and even glossy textures are totally suitable. To refine a pulpy mouth, prefer a semi-matt or creamy formula. Contrast must be assured, so avoid beiges that are too pale.
Once again, brands offer special nude ranges to suit all tastes. On the whole, you will find shades created around brown or brown, enhanced with pink or red.  Here is an example of shades present in the collections :
Vintage pink, pinkish brown
Caramel, honey with golden reflections
Copper, brick or peach (coral)
Mocha brown, chocolate
With some covering reds, the outline is useless. However, you can draw it for a better hold. If you have a different shade between your upper and lower lips, apply a concealer pencil. The shade should be close to the lightest lip. This will make it easier for you to unify the color of your mouth.
Finally, to remain sublime and natural until the end of the nails, consult our special guide "nude nail polish".
Add to favourites