When you're a woman, removing hair from your legs, underarms and bikini line is part of your body routine, starting in your teens. But with black, mixed or dark skin, vigilance is required. When depilating or shaving, several factors multiply the risks of hyperpigmentation. 
Fortunately, there are solutions for managing body hair and taking care of your skin, despite these problems. By following a specific routine and applying specific care products, the dream of having beautiful, clear skin, but without spots, is still possible.
Discover the particularities of each hair removal or shaving technique, to be adjusted according to the different areas and situations. Whether your skin is matt, mixed-race or black, here are our tips for keeping it soft, satiny and even in all circumstances! 
CUTTING HAIR WITH RAZOR, DEPILATORY CREAM
The convenience and speed of shaving appeals to many women. At the same time, this method is often criticised for making hair thicker. In reality, 48 to 72 hours after having removed hair with a razor, we tend to focus on the visible part, the part that grows back, which is inevitably thicker in appearance. However, afterwards, the hair naturally becomes thinner on the lengths.
If this procedure is sometimes not recommended for women with a dull to dark complexion, it is mainly because of the blades, which can inadvertently cause cuts. The difficulties of healing that cause pigment spots explain this recommendation. The thicker corneal layer naturally takes longer to regenerate and rebuild.  However, if the rules of application are followed, this technique is perfect for recovering clear legs and does not present any real danger.
In order for the razor to glide over the areas to be treated, it is essential to lubricate the skin beforehand. Therefore, the use of a shaving foam or gel is preferable to a simple soap. To avoid ingrown hairs, the razor should be used in the direction of growth. There is no need to force the razor, just find the right angle to the hair. The choice of a quality accessory is also a determining factor... And above all, one designed specifically for women's bodies!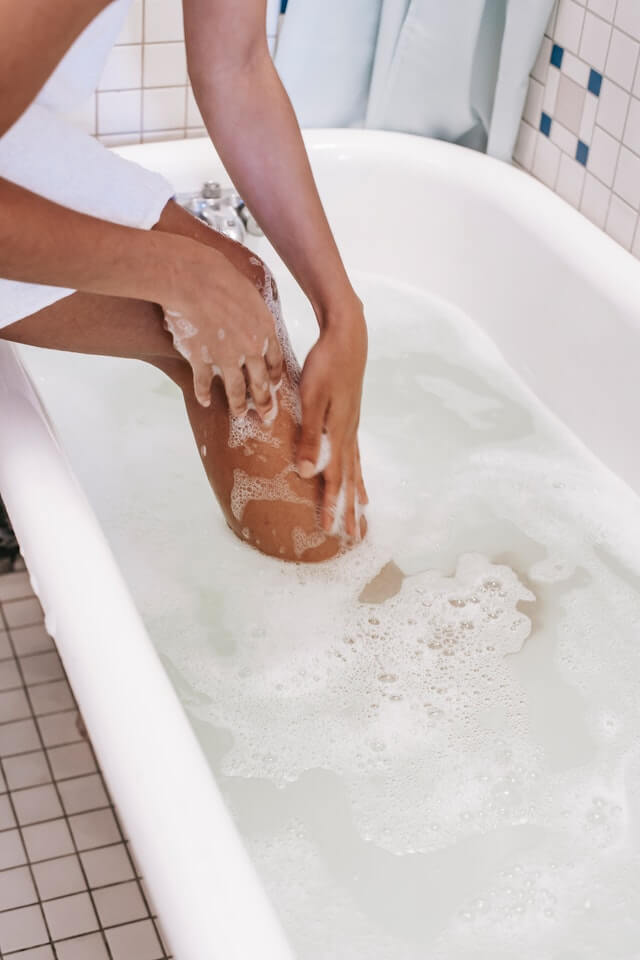 Indeed, men's razors are designed to meet the characteristics of a stiff beard.  The blades are hard and wide and therefore unsuitable for women.  In contrast, the heads designed for women's models are thin, flexible, very manageable and able to follow the curves of the body perfectly. 
Shaving is not really a hair removal technique: the blade does not pull out the hair. It cuts the hair just above the level of the skin. For people prone to ingrown hairs, this procedure is recommended, provided that the direction of growth is respected. It reduces the formation of small balls under the epidermis. Simple shaving, or alternating with "plucking" (waxing, epilator), effectively reduces this phenomenon.
The depilatory cream leads to similar benefits. It is even more interesting, since it dissolves the hair just on the surface of the skin. Easy to apply, it offers a smooth and clear skin for a longer time, about 4 days against 2 days with the razor. This solution is particularly recommended for removing hair from sensitive areas of the bikini line and underarms. The first time, however, it is preferable to carry out a test on a small area, by applying the depilatory cream, to rule out any risk of allergy to the components.
Good to know: to avoid rust and bacteria growth, never leave the razor by the bath or shower. After each use, it should be dried and stored away from moisture. 
REMOVING HAIR WITH WAX OR EPILATOR
Admittedly, hair removal techniques take longer. But the operation has to be repeated less often: after two to three weeks, compared to a few days for shaving or depilatory cream. During this period, the result remains visually impeccable. 
Several approaches are available, at home or in a beauty salon: traditional waxing, oriental waxing and electric depilators. 
Traditional wax: hot or cold
Hot waxing is an effective method and can be used on all parts of the body: bikini area, underarms and legs. The wax is heated in a microwave or water bath and then applied in the direction of the hair. Once dry, the wax is removed with a sharp blow in the opposite direction.  With or without strips, in pots or in beads, the technique produces a similar result: the hairs are pulled out instantly. Wax residues are removed by carefully massaging the skin with a few drops of vegetable oil: sweet almond, argan, coconut...
Its handling requires precautions and good dexterity. With a little experience, the gestures can be learned without difficulty. But for some women, the comfort of an institute remains a safe bet for a professional service.
Mounted at a high temperature, wax opens the pores and thus facilitates the removal of hair naturally. But before opting for this hair removal technique, you should know that it is sometimes not recommended. Because it dilates the blood vessels, it should be avoided in cases of circulation problems, venous insufficiency, or even varicose veins.
For people who are prone to these problems, other alternatives are possible such as cold waxing. Presented in soaked strips, in different formats, it adapts to the multiple areas to be treated. Ready to use, these wax strips are ideal for getting smooth, satiny skin anywhere and for last-minute touch-ups. They warm up slightly between the hands before being applied and then torn off. 
However, cold wax adheres less to the hair than hot wax. It is therefore suitable for legs, but may be less effective on the underarms or bikini area. Indeed, these mobile, narrow areas are generally more complex to treat. Moreover, on short hairs, the result is less clear. 
Oriental waxing
Oriental waxing is an entirely natural solution: water, sugar, honey and lemon.  Its ingredients offer multiple virtues. The cleansing properties of lemon slow down hair growth. The combination of sugar and honey effectively exfoliates the skin. The elimination of dead cells limits the formation of ingrown hairs. Finally, the risk of allergy, which is possible with traditional wax or depilatory cream, is practically zero.
Economical and easy to make, it attracts DIY enthusiasts for home hair removal sessions. However, using it requires a little experience. Mastering the ideal temperature is essential to avoid burning yourself, but also to allow a good application. 
For a perfect result, this wax should be warm. If it is too cold, it will lack flexibility and cannot be mixed properly. Too hot, beyond the risk of burning, the oriental wax will become too liquid and its adherence power will be insufficient. Moreover, the gesture remains delicate for the novices, as for the traditional wax.
Fortunately, this technique with its many advantages is often offered by experienced professionals in beauty centres.
The electric epilator

 
The electric epilator is appreciated for its ease of use. It does not require any preparation and can be transported without constraints. It is effective on the whole body. With or without a cord, the new models promise to remove all hair, even the shortest. Some devices are even waterproof. 
Designed for use in the shower, these "wet & dry" epilators are particularly attractive to women who are sensitive to ingrown hairs. Handling them under hot water helps to reduce the appearance of ingrown hairs by opening the pores naturally before epilation.
On the plus side, unlike waxing, these multiple tweezers do not tear off the skin, but only the hair. It is also easier to use: you just have to tighten the skin tissue each time you use the device.
More efficient than their previous counterparts, electric epilators are perfect for legs and even bikini line or underarms. Multiple accessories such as brushes, heads or beads optimise the "soft skin" session at home to offer complementary treatments:
Deep cleaning

 

Exfoliation

 

Massage
Some of them contribute to a real reduction in pain by facilitating access to sensitive areas. However, if they help to reduce the pain, those who are more sensitive or prone to ingrown hairs should consider another method. 
ERADICATING INGROWN HAIRS WITH PULSE LIGHT OR LASER

 
Permanent hair removal combines two techniques: pulsed light and laser. Slightly painful, they are popular for their formidable efficiency, but require, depending on the method chosen, a significant number of sessions per area: 5 to 10 on average. A specific budget is therefore required. However, in the long term, this expense is well worth it!
Intense Pulsed Light for lasting hair removal
It is important not to confuse IPL with laser hair removal. On the one hand, this technique eliminates hair, but really permanently. On the other hand, it is not suitable for all skin types. It is recommended for slightly darker skin types, but is not suitable for very dark skin.
The pulsed lamp emits several wavelengths of energy. Its principle is based on the heat of these light rays (70°C). The device destroys the hair down to the hair bulb. This process is offered in beauty centres, but is also available for home use.
Gradually, with each session of Intense Pulsed Light, the hairs become thinner and less dense.  However, they may grow back after 3 years if maintenance appointments are not made.
Pulsed light targets the melanin in the hair system, but does not differentiate between hair and skin. If there is no visual contrast, the proper functioning of the device is compromised.  People with dark skin (or very pale light skin) and those with fine hair will not be able to use this method. 
Logically, it is also forbidden to remove hair with Intense Pulsed Light, whether you have white or dark skin, after a tanning session without sunscreen, or worse, with sunburn!
Laser hair removal for permanent hair removal
On the other hand, laser hair removal is fully suitable for dark skin, on brown to black hair (but not on blond or red hair!). A powerful beam of a single wavelength destroys the root of the hair in a targeted manner. Permanent hair removal by laser is a supervised aesthetic medical practice:
For dermatologists only

Exclusively practised in the office or in a specialised centre

Long-term scheduled sessions, sometimes up to two years

Recommended for people with serious ingrown hair problems

 
Laser hair removal offers the possibility of having a smooth and clear skin in a durable way. But above all, this innovative technique of aesthetic medicine makes it possible to avoid the risk of post-inflammatory brown spots. The appearance of devices adapted to the problems of dark skin such as the Nd-YAG laser technology has revolutionised the world of beauty. As a result, more and more women with black or dark skin are opting for this hair removal solution.
Add to favourites