In the summer, with open-toed shoes, you can't afford not to take care of your feet and nails. The goal is to have soft skin, smooth heels and clean nails. For this, you can go to a beauty center, a podiatrist or take care of them yourself at home. Depending on the condition of your feet and your expectations, each solution will be more or less adapted to have beautiful feet in your sandals all summer long.
The podiatrist treats damaged feet in depth and treats specific problems such as corns, bunions, ingrown toenails, etc. A classic beauty treatment consists, for a beautician, of a scrub, a moisturizing of the feet and a nail care. It is possibly followed by the application of a varnish. Between two visits to the institute, you can also do this session at home. 
Find out how to make your feet and nails look great this summer. Here are our 5 tips for a successful home pedicure! 
A REFRESHING FOOT BATH AND A RELAXING MASSAGE
On vacation, with the rise in temperature, wearing sandals, standing for long periods of time (walks, dance parties, etc.), feet often get hot. To relieve them and restore their freshness, prepare a relaxing and purifying foot bath. This ritual eliminates bacteria and softens the epidermis for a truly relaxing moment. 
In a basin of warm or cold water, put in 1 tablespoon of sea salt, rich in trace elements. There are also effervescent bath salts or pebbles that are very effective in refreshing your feet in an instant. Their composition includes essential oils of eucalyptus, rosemary, pine or mint, they naturally provide a real boost of freshness. 
Soak your feet and relax for 5 to 15 minutes. Afterwards, dry them by dabbing them with a towel, making sure to wipe the spaces between the toes. If you have pain in your legs, you can then apply a specific treatment to relieve you. 
Some gels are menthol-based for a real ice-cube effect or horse chestnut-based to stimulate microcirculation. In case of muscular contractures, turn to the soothing propolis to relax you. Spread the product from the toes up to the ankle and then the calf. Remember to keep it cool, it will be even more effective. 
Our tip : Sprinkle a veil of talcum powder inside your shoes and massage your feet with it. They will stay dry, even if you sweat.
ELIMINATE CALLUSES AND EXFOLIATE THE SKIN OF THE FEET

 
To have a smooth appearance on the heels and the sole of the foot, it is necessary to eliminate calluses gently. To avoid damaging the epidermis, sand once or twice a week with a rasp on perfectly dry skin. 
Today, there are electric devices to treat calluses. But the manual version is also effective. With an emery cloth rasp, use the coarse side first. Rub the rough areas with a back-and-forth motion. Then, smooth them with the other side, which has a finer coating. 
At the same time, scrub the skin on the toes and tops of the feet with an exfoliator. By removing dead skin cells, the scrub will accelerate cell renewal and make the nail area look cleaner. 
Finally, for a "100% natural" exfoliation, make the following recipe for soft, smooth feet in an instant. In a container, mix the juice of one lemon and 2 tablespoons of vegetable oil of your choice. Add 2 equal parts of coarse salt. Apply this preparation to the top and bottom of the foot, massaging in a circular motion, paying particular attention to the heels. 
Good to know : avoid using a metal rasp, which is too aggressive on darker, more sensitive skin. This accessory can really tear off the epidermis during sanding. 
MOISTURIZE REGULARLY AND SUBLIMATE THE EPIDERMIS

 
Daily moisturizing of the epidermis is essential to have beautiful feet. Therefore, remember to apply a moisturizing cream to your feet every day. A non-greasy texture is preferable, especially during the summer season. If you don't have any particular problems, your body milk may be suitable. 
You can also use castor oil. Anti-inflammatory, purifying, cleansing, nourishing and even antifungal, this vegetable oil is perfectly indicated for a foot massage. Its benefits are, moreover, widely proven on the growth and the health of the nails. 
For more comfort and efficiency, moisturize your feet at night, before going to bed, until the product has completely penetrated. Take advantage of this time to knead the areas of tension in the arch of the foot and the toes. During the day, protect the tops of your feet from UV rays with sun protection to avoid the appearance of pigmentation spots. 
In case of extreme dryness or even cracks, choose a cream for dry and damaged feet. Rich in urea (over 5%), hyaluronic acid and vitamin B, its nourishing and moisturizing properties are complemented by a specific keratolytic action on calluses. 
Evening beauty tip : To enhance your skin and catch the light in an instant, mix a golden blush with your usual body milk. Apply it generously to your legs and the tops of your feet.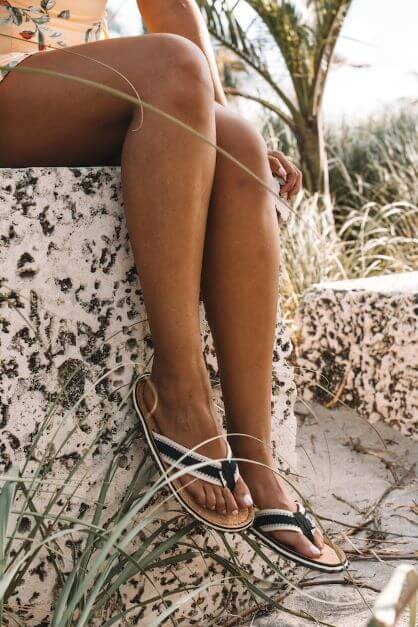 CUT YOUR NAILS SQUARELY, POLISH THEM AND TAKE CARE OF THE CONTOURS
Toenails are naturally thicker than fingernails. Therefore, it is advisable to cut them squarely, with pliers or nail clippers. This is recommended by podiatrists to keep them healthy and prevent ingrown toenails. 
If you want to slightly round the sides, because they are too prominent, use a nail file. Finally, as far as length is concerned, shorten them to one or two millimeters from the edge, but not more, to protect them from infection. 
In addition, their surface is often ridged. Fortunately, you can easily remove these irregularities with a polisher. Choose a 4-sided block. This accessory allows you to file, smooth, polish and shine at the same time. 
However, don't use the abrasive side more than twice a summer. This way, you will preserve the nail and avoid over-sharpening it. The finer side gives instant shine. It can be used safely every two weeks. 
Then moisturize your cuticles with a natural emollient: coconut oil or shea butter. Push them back slightly so as not to weaken the nail matrix, using a boxwood stick. This beauty gesture helps to avoid the accumulation of small dead skin around the nail. Remove any dead skin that may be nestled in the groove by passing the cuticle-repelling stick inside. 
REVIVE THE NATURAL SHINE OF YOUR NAILS AND OPT FOR YOUR FAVORITE COLOR TREND!
Before indulging in the pop or pastel trend of summer polishes, you can apply a whitening base to revive the shine of your nails. Thanks to its bluish or violet pigments, it neutralizes their sometimes yellowish aspect, for a clean and neat result. 
On vacation, you can dare to use color on matte or black skin, with warm tones revealing themselves more than ever. The summer palette is wide: poppy, orange, apricot, coral or even golden, coppery, even glittery. If you want to give your pedicure a fun touch, go for the 80's/90's trend by choosing one or more fluorescent shades. Yellow, orange, pink or even green, go for it! 
But in summer, natural tones are also a safe bet to match all your outfits. On pigmented skin, white nail polish on toenails brings a chic and neat look. Simple but elegant, it is easy to wear, just like nude nail polish. From beige-brown to chocolate shades, easy to match, it can be worn with heeled sandals as well as beach flip-flops! 
For a better hold, apply two thin layers. The first will hold the second, creating a more concentrated and intense finish. Finish with a top coat for maximum shine. If you're feeling fancy, you can embellish these flashy shades with nail art. 
If you are not equipped to apply a semi-permanent nail polish, choose "gel effect" compositions at home. Thanks to their long-lasting formula, their glossy and resistant finish, these innovative products offer up to two weeks of peace of mind. 
Good to know : To have beautiful feet in all circumstances, it is recommended to do a pedicure every 15 days to a month. However, polish is not necessary every time. Ideally, let your nails breathe between two applications and at least two days.
Add to favourites