Reduced price!
CLEAN'OYA® EXTRA My Gel « Cleansing Exfoliating Scrubbing »
Thanks to its new formula twice more effective and resulting from a double patented technology "CLEAN'OYA® EXTRA & MAT'OYA® ", My Gel "Cleanser Exfoliating Scrubbing" is an excellent exfoliating scrub to deeply exfoliate your skin, accelerate the skin cell renewal and eliminate dead cells.
EARN 115 POINTS BY PURCHASING THIS PRODUCT!
> You need to be a member of the OYA Club to benefit from these points
This product is no longer in stock
Availability date: 12/06/2016
Specially formulated for pigmented skin and adapted to all skin types, My Gel "Cleanser Exfoliating Scrubbing" is a gentle scrub that helps promote skin renewal to restore your complexion radiance and vitality.
Its dual technology combines the "CLEAN'OYA® EXTRA & MAT'OYA®" active ingredients, perfectly adapted to the specificities of black and brown skin, to deeply unclog pores, eliminate impurities and dead cells, and provide long-lasting radiance to the skin.
The «CLEAN'OYA® EXTRA» technology accelerates cell renewal and eliminates dead cells accumulated by the skin while respecting its sensitivity.
The «MAT'OYA®» technology reduces imperfections and ensures matte, smooth and luminous skin.
This synergy of powerful active ingredients stimulates cellular activity and optimizes dark spots treatments with « MEL'OYA® » range and anti-imperfections treatments with the « ACN'OYA® » range.
My Gel « Cleanser Exfoliating Scrubbing  » has a sweet and fresh scent, and gives the skin a soft peeling effect thanks to these exfoliating microbeads (Bamboo and Jojoba).
Smooth, fresh skin full of vitality
A radiant complexion and a glowing face
Soft peeling effect for brillance
A patented dual technology, CLEAN'OYA® EXTRA and MAT'OYA®, for a smooth, radiant and deeply exfoliated skin.
Cleansing & Exfoliating & Scrubbing action:
CLEAN'OYA® EXTRA: A synergy of powerful active ingredients that acts on skin peeling and promotes cell renewal for a soft peeling effect. CLEAN'OYA® EXTRA deeply exfoliates while respecting the sensitivity of the skin to promote the effectiveness of "anti-dark spot" and "anti-imperfection" treatments.

Microbeads Bamboo and Jojoba: the combination of these microbeads offers a gentle mechanical exfoliation to avoid micro-scratches responsible for skin irritation.
Mattifying action:
MAT'OYA®: An innovative patented technology (international patent WO 2007/029187) based on extract of Enantia chlorantha, a tree originating from Cameroon, from the Great Green Wall of Africa. This active ingredient is rich in protoberberines and oleanolic acid, which acts remarkably on the proliferation of cells producing sebum (sebocytes) as well as on the activity of 5α-reductase, making it possible to reduce sebum production of black skin at source.
"Rejuvenating skin" action:
The unique combination of CLEAN'OYA® EXTRA technology and exfoliating microbeads allows the skin to regain its natural radiance for a luminous complexion.
Ingredients:
Aqua (Water), Propanediol, Ammonium Lauryl Sulfate, Niacinamide, Salicylic Acid, Citric Acid, Glycol Distearate, Sodium Hydroxide, Glycerin, Hydrated Silica, Hydroxyethylcellulose, Bambusa Arundinacea Stem Extract, Enantia Chlorantha Bark Extract, Jojoba Esters, Oleanolic Acid, Sodium Benzoate, Xanthan Gum, Potassium Sorbate, Disodium EDTA, Benzoic Acid, Butylene Glycol, Chlorphenesin, Parfum (Fragrance), Disodium Phosphate, Polysorbate 60, Sodium
Our ingredients from Pharmacope AFR'OYA:
As a scrub, use 2 to 3 times a week.
To boost your "anti dark spots" and / or "anti-imperfections" treatment, use 1 time per day on the areas to be treated (face or body) for 10 days. Massage gently with circular motions, leave for 2 to 5 minutes and rinse thoroughly. Morning or evening.
For a clear and luminous skin, complete your skincare routine with My Purifying Mask "Softness & Radiance", 1 to 2 times a week, after using your scrub.
My Gel «Cleanser Exfoliating Scrubbing» can complement and optimize your treatment with My Correcting Serum, My Skin Care Anti-imperfections or My Targeted Corrector « Local Imperfections » treatments.
Avoid contact with eyes and mucous membranes, if necessary rinse thoroughly with water.
For personalised advice, you can contact your pharmacist or send us an email at contact@inoya-laboratoire.com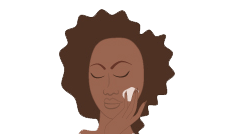 Apply My Gel « Cleanser Exfoliating Scrubbing » on the areas of the face and body you want to treat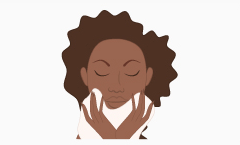 Rinse thoroughly and gently dry your skin with a cloth
You can then apply the « MEL'OYA® » dark spot correcting range and the « ACN'OYA® » anti-blemish range
Related articles in the OYA Blog
The changes I've seen each month have assured me of how good the IN'OYA products really are
Wendie, 26 years old: " I contacted IN'OYA Laboratoire in October 2014 because I had been suffering from   very oily skin , spots, as well as numerous   dark spots  on my face for over 10 years, caused by acne and the use of skin...