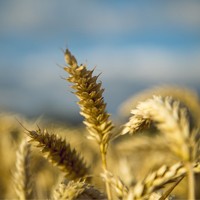 TRITICUM VULGARE GER
Description
Rich in vitamins A, D, B, E and F, Triticum Vulgare (Wheat) Germ Oil is recognized in the treatment of eczema and psoriasis. Its high vitamin E content makes it a top-of-the-line ingredient for the treatment of dry and sensitive skin. Very nourishing, it gives again with the skin its elasticity and a velvety touch.
Origin
Wheat germ oil has nourishing properties (it moisturizes dry and dehydrated skin), regenerating properties (it protects and repairs the most sensitive skin) and anti-aging properties (it nourishes and protects against skin aging). It is also firming, because it strengthens the cutaneous tissues and reinforces the elasticity of the skin.
Effect
Mali is a historical producer of wheat in Sub-Saharan Africa. This crop was introduced in the 15th century from the Timbuktu region by the Almoravids, conquerors from Morocco. It has been passed down from generation to generation until today.