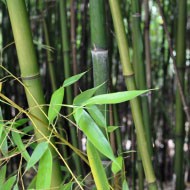 BAMBOO
Description
Bamboo is a plant whose stem and leaves are used for various purposes, particularly in cosmetics but also in food or construction.
Origin
Bamboo leaves have revitalizing properties for the skin, but they also have moisturizing, anti-inflammatory and purifying properties. Bamboo beads are also used for their exfoliating action.
Effect
There are several hectares of bamboo from Ethiopia to Zimbabwe.