With the return of the beautiful days (and the end of the outdoor mask!), you surely want to let yourself be tempted by an original makeup. We've been watching the runways of Fashion Week, but also your creations on social networks for beautiful summer inspirations.
Fun spirit or natural look, this summer you will find, for sure, the make-up you need. Discover the 5 beauty trends that In'Oya has spotted for you.
BLACK OR GRAPHIC LINE


The black line gives structure to the look. There are different interpretations of this marked trend.
For a grungy influence, inspired by the 90s, the eye contour will be dark, but blurred. The ideal is to achieve this fade with a kohl pencil and a short-haired brush at the base of the lashes. Some women like to contour their eyes in a more subtle way, Egyptian style. The line should then extend towards the temples, but also towards the base of the nose.
Finally, the trend seen for this summer 2021 is to draw one or more graphic and sophisticated curves. This type of makeup is easier to achieve with liquid eyeliner for a very graphic doe eye! You can even accentuate this eye focus by enhancing it with vertiginous false lashes... Wow effect guaranteed!
FLASHY OR MULTICOLORED EYELIDS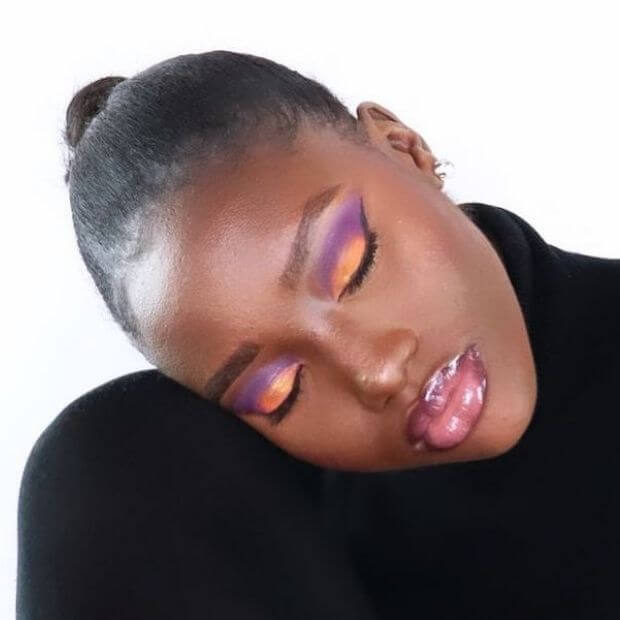 A desire for freedom and boldness has spread to fashion and makeup. Colors are coming back in force to give us a boost and a wind of positive energy. As we already announced to you in preview, the flashy make-up, even fluo is resolutely in the air of time.
If a monochrome pop shadow is an easy option, the two-tone style will embellish darker skin with a touch of fantasy. For example, we suggest you take inspiration from this flamboyant orange and purple halo (above). And if you want to be even more original, take advantage of the summer to dare a multicolored look, with a Carnival atmosphere !
To get a perfect result with these ultra-pigmented colors, experienced makeup artists recommend doing the complexion makeup after the eye makeup, to avoid messing it up afterwards with eye shadow falls.
Finally, don't forget the golden rule: keep a nude or natural look on the lips.
YELLOW : COLOR OF THE YEAR 2021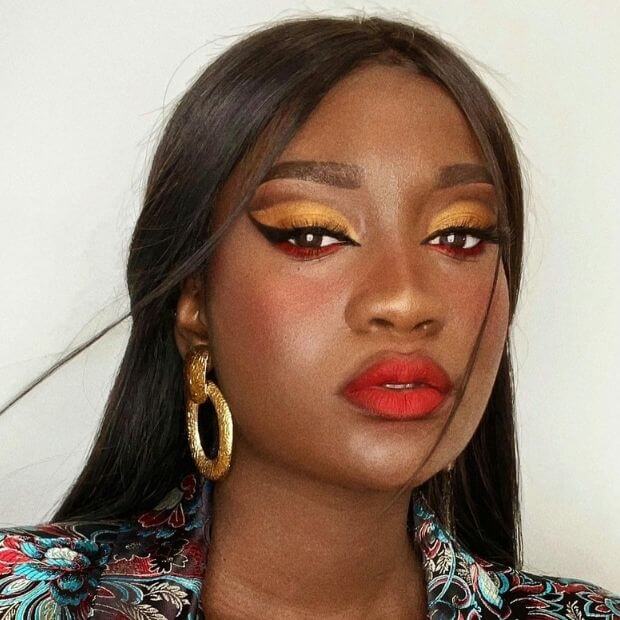 Yellow in makeup had not appeared for a very long time! Good news, this bright color has been designated, along with gray, as the trend of the year 2021 by the Pantone Color Institute. This tangy shade is finally getting its place in our eyeshadow palette.
Champagne, ochre, gold, saffron, sand, or even fluorescent... The many warm and energizing shades of yellow will instantly brighten your eyes. For black, mixed race or dark skin, we recommend that you always choose ultra-pigmented shadows to avoid a dull or too pale effect.
If you want to achieve a subtle gradient, mix yellow with chocolate or light brown shades. But it is also possible to combine it with a hint of a bright color of your choice (red, blue-green, etc.). To enhance a yellow smoky, we recommend combining it with black eyeliner or gold glitter.
You'll also find it in eyeliner with highly pigmented, easy-to-apply formulas. These new textures are comfortable to wear and offer a clean line for an intense and stylish yellow color.
NUDE & NO MAKE UP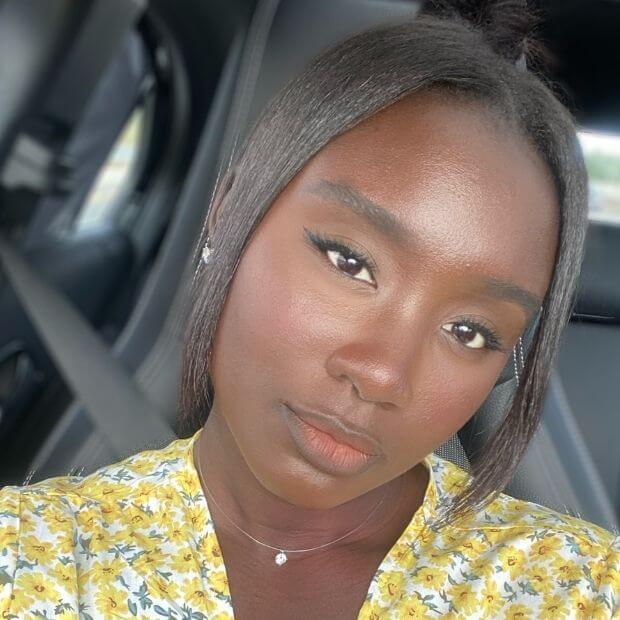 Natural makeup, especially nude, continues to make its way into our favorite looks. Enhancement of the skin tone, simplicity of realization of day as well as night... Its assets do not miss to seduce you!
To succeed in this make-up, it is advised to prepare your skin well beforehand, in order to have a healthy skin. The objective is not to camouflage imperfections, but to enhance a naturally radiant complexion. It is generally recommended to use a fluid complexion product or a light bb cream. The application with a brush allows to avoid putting too much and to create demarcations.
Minimalists will go even further by claiming the No Make-up trend. But to be able to assume this trend, it is essential to get rid of your complexes: spots, pimples, wrinkles or even a dull complexion!
A well adapted and followed care routine, a good life hygiene will allow you to dare this absence of make-up like Alicia Keys ! This movement, in line with body positivity, encourages you to assert yourself as you are, free of constraints, for a 100% natural look.
RED MOUTH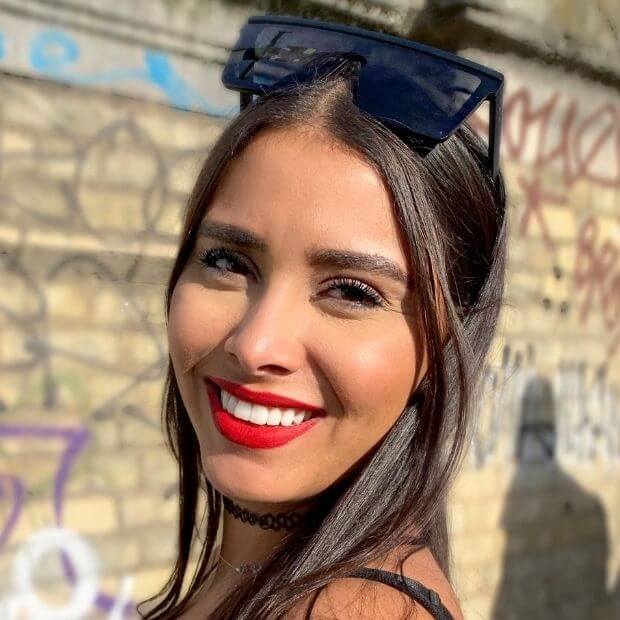 The red mouth is making a comeback! The face uncovered on the outside is the perfect place for bright smiles. Bright red, matte red, orange or garnet... We would like to point out that red is infinite, but not all variations will suit you.
Fortunately, there are many shades available: have fun and test them to determine which one suits you best. For matte skin, a bright carmine red will enhance their naturally tanned complexion (like Dina from the In'Oya team, pictured here). Ebony skin will be enhanced by a garnet, burgundy, or even wine-colored lipstick. Indeed, this very dark skin will be enhanced by these cold colors.
Once you have chosen the shade of lipstick that matches your skin tone, create a pretty glowy complexion. The eye makeup will be light. Emphasize only the eyes with a simple mascara, or even a thin line of eyeliner for a retro look.
And you, what are the makeup trends for black, mixed or matte skin that you love for the summer period? Feel free to send us your best makeup looks by contacting us via Instagram or Facebook.
Add to favourites