100% secure payments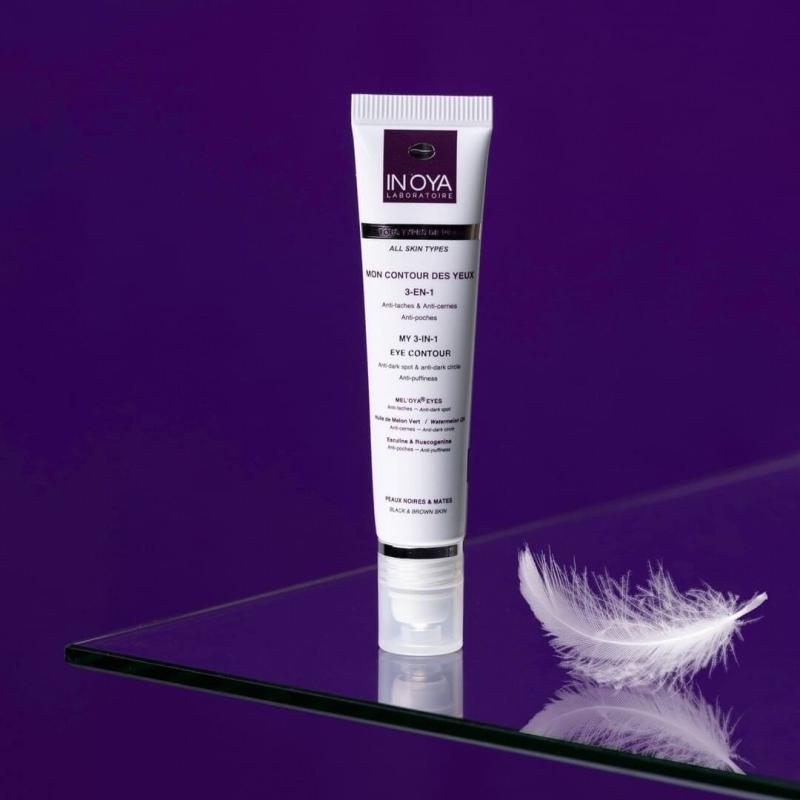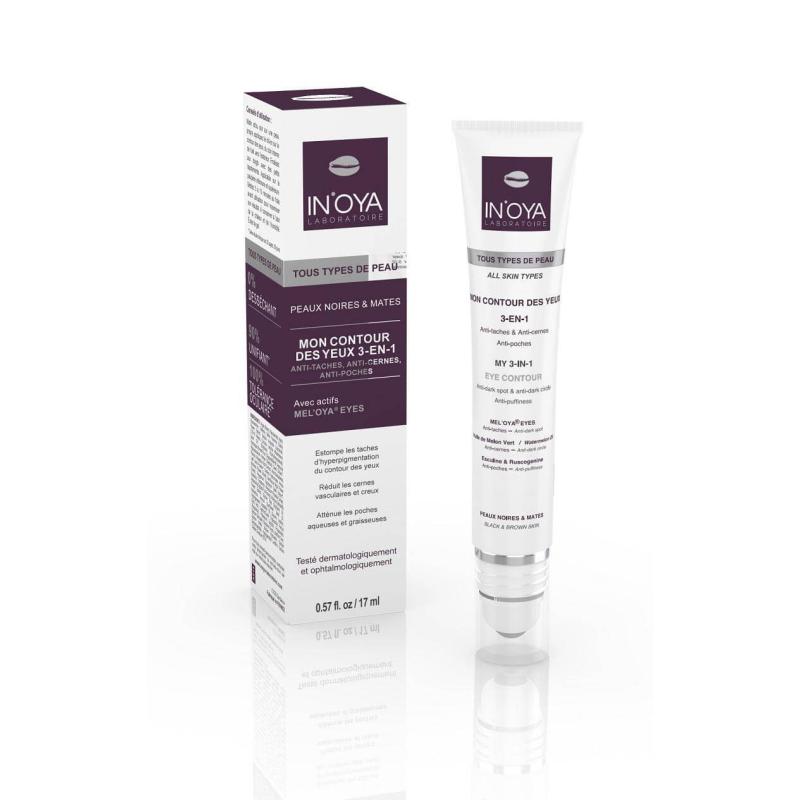 Next
Previous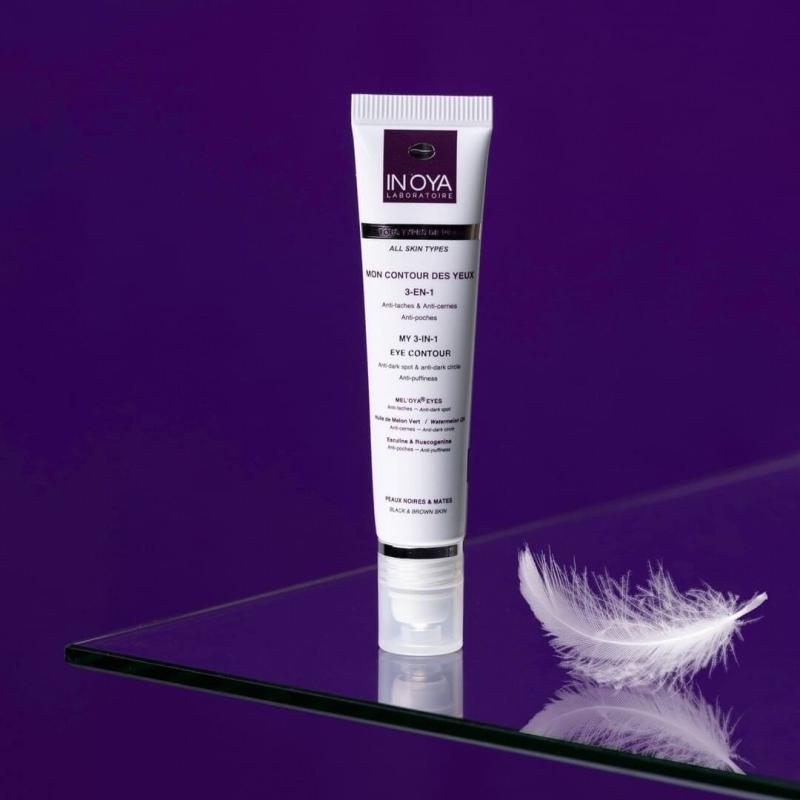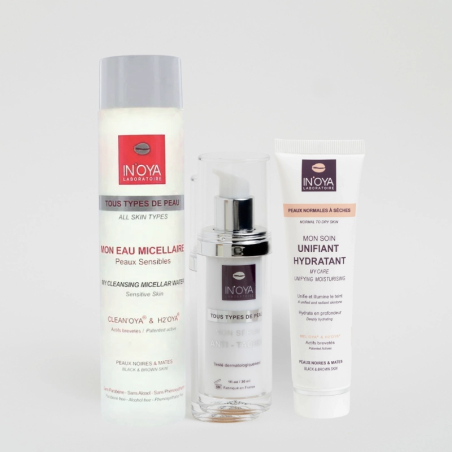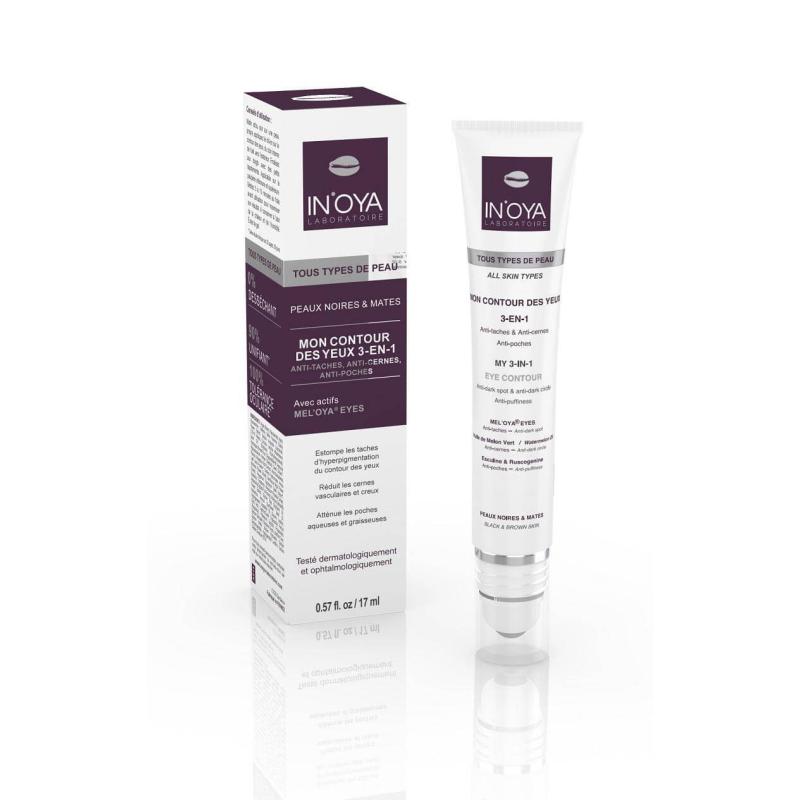  
---
---
Product details

Discover in video

Terms of Use and Ingredients

Customer reviews

Your Routine

Related Products

Articles and testimonials
My Eye Contour 3-in-1 "Anti-spots, Anti-dark circles, Anti-puffiness" MEL'OYA ® EYES
Thanks to its alliance between the innovative MEL'OYA® EYES technology and its powerful assets, it revives your gaze and illuminates it without tingling or pulling. This treatment effectively treats hyperpigmentation spots, fades dark circles, puffiness and fights against signs of fatigue.
Need
Treats pigment spots, reduces dark circles and puffiness
Clinically and ophthalmologically tested*, MEL'OYA® EYES technology unifies the eye contour and brings radiance to the complexion for a luminous look without spots, tingling or pulling !
MEL'OYA® EYES "Anti-stain" technology
It inhibits the enzymes responsible for the appearance of spots: tyrosinase and TYRP1. Its anti-stain action improves the natural radiance of the eye area.
Green Melon Oil, Caffeine
These active ingredients promote skin microcirculation (blood and lymphatic). They were chosen for their venotonic effect, to stimulate blood circulation. They attenuate the accumulation of vascular pigments.
They plump the thin skin of the eyelids.
Ruscogenin, Buckwheat black wheat wax
They both possess a decongestant action. Ruscogenin stimulates lymphatic drainage to reduce watery pockets. Black Buckwheat Wheat Wax lipolyzes fat deposits to reduce fat pockets.
*On a panel test of 20 subjects with sensitive skin after 28 days of use:
90% saw a reduction in signs of fatigue and a unified complexion
85% saw a net reduction in stains
WHEN Morning and/or evening on clean skin
BENEFITS Luminous look, defatigued and without spots. The skin around the eyes is plumped and rejuvenated!
My Eye Contour 3-in-1 "Anti-spots, Anti-dark circles, Anti-puffiness" MEL'OYA ® EYES
Treats pigment spots, reduces dark circles and puffiness
✔
Treats all types of hyperpigmentation spots around the eyes (solar, inflammatory, hormonal ...)
✔
Reduces vascular (purple/blue) and hollow (shadow effect) dark circles
✔
Reduces aqueous and greasy pockets
✔
A natural and pleasant smell
✔
A fluid, light and non-sticky texture
✔
Does not dry out the skin
✔
0% DESECHEMENT – 90% UNIFYING* – 100% EYE TOLERANCE
Cleanse your skin gently with My "Purifying Cleansing" Foam . In the evening, before this step, remove makeup with Mon Eau Micellaire "Sensitive Skin", using soft cottons. Then, on your cleansed and dried skin, apply My Eye Contour Care 3-in-1 "Anti-spots, Anti-dark circles and Anti-puffiness" in the morning and / or evening, on both eyelids. Perform a draining self-massage using the roll-on from the inner corner of the eye to the outside. Finish with your fingers with small taps. The ball of the roll-on allows an immediate decongestant action on your dark circles and pockets. Maximize this result by putting it in the cool for 5 to 10 minutes: prolonged "ice effect"! My 3-in-1 eye contour treatment perfectly complements your daily anti-spot routine for optimal action on your hyperpigmentation spots (hormonal, solar or inflammatory), even the oldest ones. Following the application of your eye contour treatment, apply every evening locally My Serum "Anti-spots" on your pigment spots, outside the eye area. Finally, apply My Elixir "Regenerating Repairing" on your entire face and neck with circular massages from the inside of your face to the outside. PRECAUTIONS FOR USE: Store away from light, heat and moisture. Avoid freezing. Can be used in pregnant and lactating women at the rate of once a day.
Aqua (Water), Niacinamide, Acetyl Glucosamine, Caffeine, Bellis Perennis (Daisy) Flower Extract, Sodium Acrylates Copolymer, C15-19 Alkane, Citrullus Lanatus (Watermelon) Seed Oil*, Ethylhexyl Polyhydroxystearate, Hydrolyzed Wheat Flour, Oligopeptide-68, Aesculus Hippocastanum (Horse Chestnut) Seed Extract*, Ruscus Aculeatus Root Extract, Aloe Barbadensis Leaf Juice Powder*, Sodium Hyaluronate, Arnica Montana Flower Extract, Sambucus Nigra Flower Extract, Polygonum Fagopyrum Seed Extract*, Bisabolol, Tocopherol, Hieracium Pilosella Extract, Adansonia Digitata Fruit Extract, Hibiscus Sabdariffa Flower Extract, Glycine Soja (Soybean) Oil, Helianthus Annuus (Sunflower) Seed Oil, Hydrogenated Vegetable Oil, Glycerin, Lecithin, Citric Acid, Caprylic/Capric Triglyceride, Fragrance( Fragrance), Potassium Sorbate, Propanediol, Sodium Benzoate, Butylene Glycol, Xanthan Gum, Sodium Citrate, Sodium Hydroxide, Sodium Dehydroacetate, Hydrogenated Lecithin, Sodium Oleate, Disodium EDTA
Overall Opinion
13 Opinion
You too, do not hesitate to give your opinion
1 review posted = €5 free
Hadja Ndiaye (Aubervilliers, France)
02 September 2023
Je l'adore. Hyper efficace sur les cernes et les tâches autour des yeux. En quelques semaines d'utilisation, la différence s'est vue. Je n'avais plus cette "mine fatiguée" malgré un temps de sommeil suffisant.
KELLY TOURBIER (Haute Savoie, France)
21 July 2023
J'ai commencé les soin anti-taches au début du mois de juin 2023 et après 1mois et demi, les résultats sont là. Pendant plus de 10ans j'ai essayé plusieurs produits de différentes marques mais rien n'a fonctionné. Non seulement les taches se sont estompées, mais ma peau est radieuse/lumineuse. Merci Inoya de proposer des produits pour les peaux mates/metissées. J'ai trouvé tout ce qu'il me faut, et j'y reste.
Astrid Djiriga (Le plessis-trévise, France)
22 May 2023
Je viens à peine de le prendre, je vous donnerai des résultats.
Magalie Perrault (Provins, Metropolitan France)
11 April 2023
TRES BIEN FRAIS MAIS BIEN FAIRE ATTENTION A NE PAS EN METTRE DANS L OEIL
Lynchie (Suresnes, Metropolitan France)
08 December 2022
Ce produit aide vraiment à hydrater le contour des yeux, ça fait du bien de l'utiliser,… procure une sensation de bien être et de fraîcheur.
Cathy (Malemort, Metropolitan France)
28 May 2022
Je n'ai pas forcément de cernes mais plutôt des zones plus foncées sous les paupières du bas. C'est très visible sur une peu mate et cela me gênait et me donnait l'air fatiguée. Le soin est très agréable à appliquer grâce à sa bille. Je le laisse au frigo pour qu'il soit bien frais avant utilisation (surtout en été). Il sèche rapidement sans laisser de pellicule. Je l'utilise depuis 1 mois matin (et soir si besoin). je vois une grande amélioration. J'ai l'air beaucoup moins fatiguée. Ma peau est plus lisse et plus détendue. Je recommande vivement!
Dany (Essen , France)
19 May 2022
Au bout de 1 mois d utilisation je lee cernes se sont bien atténuées.
Babette (Brunoy, Metropolitan France)
18 May 2022
J'ai été conseillé lors de ma visite d'un stand de la marque. J'étais persuadée ne pas avoir besoin de contour car je n'ai pas de cernes, même quand je suis fatiguée. Mais au réveil, le matin je constatai des ridules de sécheresse autour des yeux. J'utilise ce soin maintenant depuis plusieurs mois, je ne peux plus m'en passer car mes contours des yeux sont bien hydrates, ça ne tiraille plus le matin. C'est une belle découverte que je conseille ! Babette.
Ishar (AUBERVILLIERS, Metropolitan France)
20 April 2022
utilisation matin et soir et le résultat est vraiment top, la différance au bout de quelque temps est vraiment flagrant
Guetty (Schoelcher , Metropolitan France)
10 March 2022
Des résultats des les premières applications: paupières lissées; cernes moins sombres. Je le garde au frais.
Emilie (Ferrières-en-Brie, Metropolitan France)
02 February 2022
Mis au frais Application matin et soir Résultat rapide
Nathalie (Paris, Metropolitan France)
28 December 2021
Un très bon produit pour le contour des yeux. Ne pique pas les yeux et il fait son Job. Bravo Inoya!!!!!!
Patricia (Sainte Rose, Guadeloupe)
13 December 2021
J'ai essayé beaucoup de produits pour atténuer mes cernes. Rien n'a marché. Ça fait 4 jours que j'utilise le produit anti-cernes inoya matin et soir et j'ai l'impression que j'ai un regard jeune. Merci Inoya. Pour le moment je n'ai pas trouvé mieux !
Other products in this category MEL'OYA
by us
for us
efficiency
proven
customer reviews
certified
ingredients
of natural origin
protocol of
personalized care
team
multi-ethnique
diversified