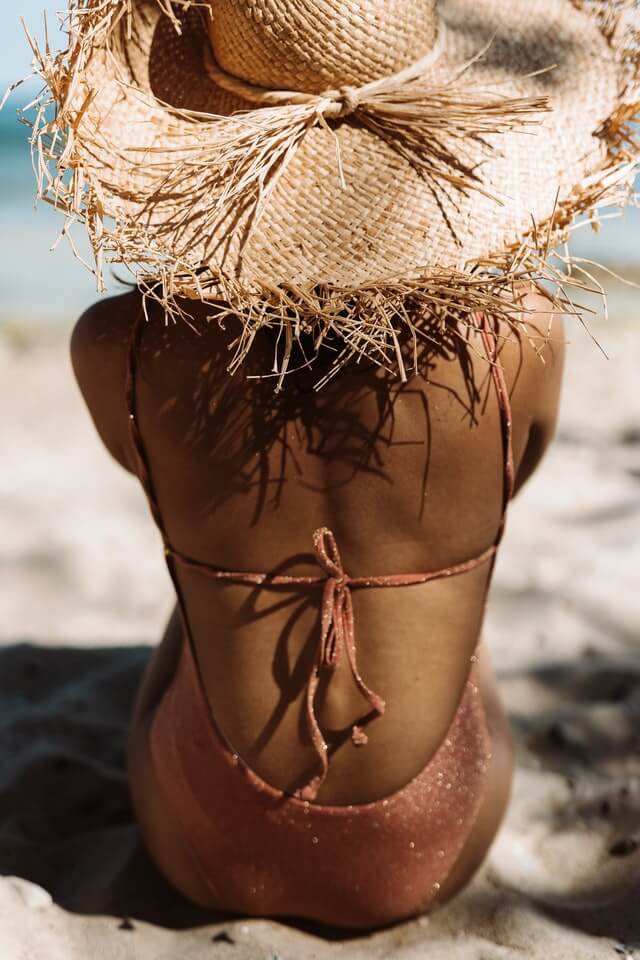 Faced with the sun, we often think that brown skin can do without the application of a suncreen to have a pretty golden glow. However, it is also concerned by the dangers of UV rays! Contrary to false beliefs, people with a naturally tanned complexion have an interest in preserve their skin when they are exposed. Indeed, the more pigments in the skin tissues do not prevent them from suffering from the sun's harmful effects!
Discover our guide to tanning without risk, when you have brown skin.
WHY PROTECT BROWN SKIN IN THE SUN?

 
The harmful effects of UV rays on brown skin, despite a natural barrier
Brown skins are not among the most sensitive categories during sun exposure. Classified as phototype III or IV by dermatologists, their melanin protection system works in part like that of black skin. It absorbs less ultraviolet rays than that of Caucasian skin. 
This characteristic creates a natural barrier against the penetration of UVA and UVB rays in the deep layers of the epidermis :
When UVB rays do the same, melanocytes are more stimulated. They will therefore produce more melanin, to intensify the basic protection. 
Specifically, in brown skin, the cells responsible for skin pigmentation are more active. The grains of melanin are then more numerous and larger. They are distributed throughout the thickness of the skin tissue. This concentration reinforces their capacity to fight against ultraviolet rays. 
From a structural point of view, like mixed-skin and black skin, brown skin is denser and more compact than light skin. By nature, they are more resistant to the dangers of the sun.
In the event of regular exposure to the sun, they automatically defend themselves by thickening their dermis. They are better protected from the early appearance of signs of aging, such as wrinkles or loss of elasticity. 
However, the harmful effects of the sun can still reach them, both on the face and the body. If they are not adequately protected, their natural resistance is not enough to prevent their skin damage. Sunburn, blotchiness and other discomforts also affect them. The use of a sun care product, adapted to the specificities of brown skins, is therefore necessary.
Brown skin without sunscreen: what are the risks?
As you can see, even if brown skins have a good tolerance to UV rays, their capital is not unlimited. By voluntarily exposing themselves to sun's rays without sun product this type of skin can be affected by various skin problems, more or less serious: 
Acne, pimples
Burns (sunburns)
Desquamation
Pregnancy mask
Melanoma (skin cancer)
Dryness
Pigment spots
Early skin aging 
In addition, when they are in temperate zones, people with brown skin may feel less exposed to the dangers of the sun. However, climate change accentuates the sensitivity of their skin. As this phenomenon is often ignored, they expose themselves to UV rays without protection, but do not realize the consequences of this behavior. 
As a result, the propensity of brown skin to become dehydrated can worsen. The defense mechanism increases the natural secretion of sebum. This overproduction can even change its appearance. From a combination skin type, it can shift to an oily type with blemishes. 
It is true that brow skins last longer than Caucasian skins. However, in case of overexposure to UV rays, an imbalance between free radicals and antioxidants is likely to accelerate their skin aging. Indeed, melanin regenerates itself by drawing on the antioxidants present in our body (vitamin C, E, selenium). But if the skin tissues are excessively subjected to UV radiation without protection the body can no longer compensate for its needs. 
To know: when dark spots develop on brown skin after sun exposure, this is due to an inflammatory phenomenon. The increased stimulation of melanin synthesis is responsible for this localized spot hyperpigmentation. 
SUN PROTECTION AND AFTER-SUN CARE: WHAT TO CHOOSE FOR BROWN SKIN?
A high protection factor preserves brown skin without preventing it from tanning 
People with brown skin have a complexion that naturally glows on sunny days. he dullness of their skin then magically disappears. This is why they often use products or foundations with a minimum protection factor. This is usually between 15 and 30. 
However, dermatologists specializing in brown skin recommend applying sunscreens for the face with an index 50. In practice, the objective of this medical advice is to avoid the appearance of spots as much as possible, because these skins are sensitive to the phenomenon of hyperpigmentation. 
But, it is possible to have a luminous complexion without lowering the SPF level of the protection. There is no need to burn to get a radiant complexion in a few days. In fact, the brown skin tans quickly, even with a sun cream index 50. Those in a hurry can always mix it with their complexion product! 
Finally, by better protecting their skin, brown skins get a perfect tan: it lasts longer and is more uniform. 
Choose a sun care product formulated for brown skin to avoid white marks 
Many sunscreens actually leave unsightly white marks. Unfortunately, on brown skins, even a thin layer remains on the surface and is very difficult to remove! 
To avoid this white effect, it is essential to turn to specific textures. A formula has been designed to protect brown skin from UV rays without any whitish mark. This fluid is ideal, because it provides despite everything, a high protection. Its index 50, corresponds perfectly to the recommendations of the dermatologists for the matt skin. Its melting texture can be combined easily with a product of complexion. It should be applied every 2 hours and after each swim in the sea or pool. 
Oil is also a safe bet to avoid streaks. However, it is necessary to choose a sun product having a sufficient index of protection. For recall, the argan oil or monoï are not adapted to the exposure of the skin to the sun. Certainly, these products of vegetable origin have excellent virtues to shine naturally the skin. Unfortunately, they do not benefit from no protection index! 
REMINDER OF THE RIGHT THING TO DO TO TAN SAFELY 
In addition to applying a protective care, it is essential to avoid exposure between 11 am and 4 pm. This is the time of day when the UV index is most dangerous. Sand and water reflecting more than 50% of the light rays on the skin, the risks are even higher at the beach. 
Therefore, in the face of the sun's harmful effects, some areas that are more sensitive to spots and signs of aging should be protected at all times: the face, neck and hands (hat, headwrap, darkglasses, parasol, etc.).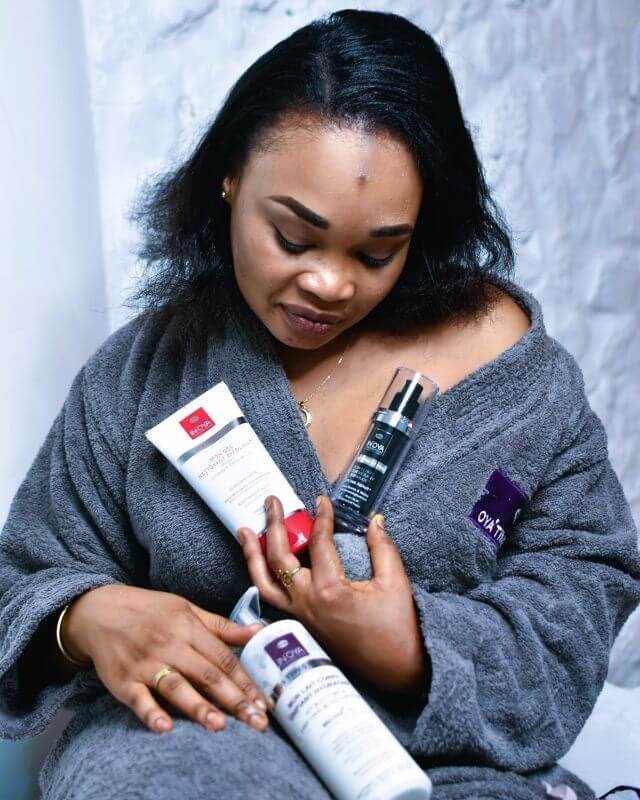 Enhancing brown skin with after-sun moisturizing 
To keep your skin soft and tanned, it is essential to moisturize your face and body. After-sun care will prevent the consequences of skin dryness and enhance the tan of brown skin.
For the face,

a night cream is recommended

to repair the epidermis and soothe it effectively. Indeed, it is at this time that the tissues regenerate in depth. The next day, when you wake up, you should apply a suitable formula to protect your skin from external aggressions (pollution, wind, etc.). If spots are already present, a corrective treatment is recommended.

For the body, shea butter is excellent. But it is even better if its virtues are optimized in a moisturizing and unifying milk. The advantage of using it as an after-sun treatment is essential for brown skin. Because it will, at the same time, nourish the epidermis, restructure it in depth and act on the spots.
Finally, to maintain a beautiful, luminous complexion for longer, this beauty routine should be complemented by a gentle exfoliating scrub, about once a week.
Add to favourites