100% secure payments
Next
Previous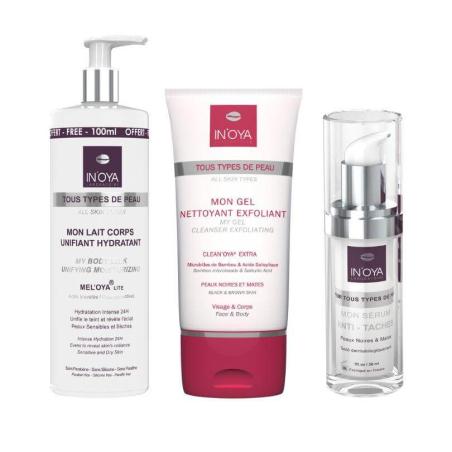  
---
---
Product details

Discover in video

Terms of Use and Ingredients

Customer reviews

Your Routine
I TREAT MY BODY SPOTS
OUT OF STOCK
You can contact our customer service department at any time if you wish to be informed when it is back in stock.
Let yourself be tempted by My OYA Pack I treat my spots and I regenerate my skin and its 3 essential products. Follow this complete skincare routine for spotless, regenerated and unified skin!
Type of product
Anti-spot routine and regenerating face combination to oily skin
Need
Boosts the radiance of the complexion and treats the spots
For a complete routine "Anti-spots" and "Regenerating", adopt My OYA Pack I treat my spots and I regenerate my skin! Treat your spots at the source, regenerate your skin and keep an even complexion all year round! Thanks to a selection of our experts in black, matte & mixed skin, use the best for your skin and keep an even complexion and a regenerated, plumped and hydrated skin. This pack contains: My MEL'OYA® "anti-stain" Serum - 30 ML: the 1st patented "anti-stain" technological innovation, specific to black & matte skin. For curative purposes, this Serum is effective on all types of hyperpigmentation spots of the body and face (inflammatory, solar, hormonal). Without side effects, it removes existing spots and prevents their appearance. My Repair repairing Elixir REPAIR'OYA® - 30 ML: ideal for all skin types (dry, combination or oily), this night care protects the skin against external aggressions and slows down the signs of aging for a detoxified, plumped and rejuvenated skin. My Mel'OYA & MAT'OYA®® " Mattifying Unifying Care - 50 ML: ideal for combination to oily pigmented skin. This "Unifying Matifying" care complex provides a double "Unifying" action combined with a "Matifying" action. For preventive purposes, it regulates the level of sebum, unifies the complexion and tightens the pores in black & matte skin.
My MEL'OYA® "anti-stain" Serum is to be applied topically to the areas of spots to be treated (face or body) only in the evening, without rinsing. For use during the day, then apply My Solar Fluid SPF 50 SUN'OYA®. My Elixir «R
A composition of patented active ingredients dedicated to pigmented skin to treat your spots and protect your skin from the sun. Action "Anti Stains" MEL'OYA®: A synergy of 3 active ingredients "Oligopetide-68® + L-Arginine® + Triticum aestivumextract®" making reference
Overall Opinion
6 Opinion
You too, do not hesitate to give your opinion
1 review posted = €5 free
Dany Yoeung (Saint-Pierre-du-Perray, France)
01 October 2023
Super gamme surtout le lait corps est top ????
Sandy Nourel (Champigny, France)
19 June 2023
Topissime
Adia Samaghare (Vitry-sur-Seine, Metropolitan France)
31 May 2023
Les produits sont top.
Fariant Mze Boina (Savigny-le-Temple, Metropolitan France)
14 May 2023
Marine FANHAN (Baie-Mahault , Guadeloupe)
18 April 2023
Le rituel parfait pour une peau sans défauts, je la recommande aux bikini lover
Joséphine (Joué-lès-Tours, Metropolitan France)
16 August 2022
La crème solaire et top pour les peaux noires matte a métissé c'est nickel je la conseille à tous les personnes noir elle juste comme il faut.
by us
for us
efficiency
proven
customer reviews
certified
ingredients
of natural origin
protocol of
personalized care
team
multi-ethnique
diversified