Bamboo
AFR'OYA Pharmacope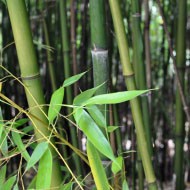 Bamboo is a plant where the stem and the leaves are used for different things, mainly for cosmetic products, but also for food products or construction.
Many hectares of bamboo can be found from Ethiopia to Zimbabwe.
The leaves of the bamboo plant offer revitalising properties for the skin, but they also have hydrating, anti-inflammatory and cleansing virtues.  The nuts of the bamboo are also used for their exfoliating action.
OUR PRODUCTS WITH THIS INGREDIENT