MEL'OYA® & H2'OYA® My Corrector « Unifying Moisturising »
Developed with patented dual technology and perfect for dark normal to dry skin, this Unifying Moisturising Lotion offers dual unifying and hydrating action.
Designed as a preventive treatment, this lotion reconstructs the skin's hydrolipidic film, evens the complexion and hydrates dark and olive skin.
EARN 165 POINTS BY PURCHASING THIS PRODUCT!
> You need to be a member of the OYA Club to benefit from these points
This product is no longer in stock
Availability date:
My Corrector « Unifying Moisturising » is perfect for daytime use for dark normal to dry skin and offers a dual unifying and hydrating action.
Thanks to its patented unique « MEL'OYA® » and « H2'OYA®» actives developed by IN'OYA Laboratoire in cooperation with France's leading scientific labs (CNRS, INSERM), My Corrector « Unifying Moisturising » offers lasting hydration to skin and evens the complexion for glowing skin.
The « H2'OYA® » technology promotes the production of essential skin lipids and improves skin's appearance. Revitalized and soothed, dry and very dry skin has a healthy glow. From the first days of use, you'll see an even complexion with hydrated and soothed skin. 
Designed as a preventive treatment and when used with the My Correcting Serum, this lotion acts effectively all day long to eliminate spots due to hyperpigmentation while keeping the complexion even day after day. 
With the light, exotic scent of coconut and gardenia, My Corrector « Unifying Moisturising » has a light, non-greasy and non-sticky feel to leave skin feeling supple and refreshed.
Instant reconstruction of the hydrolipidic film of dry skin in 98% of volunteers
Improved and restructured texture of dehydrated skin in 100% of testers
An even complexion, skin that is hydrated, soothed and supple
Patented dual MEL'OYA® et H2'OYA® technology to stimulate the hydration mechanisms of dry to very dry skin and even the complexion.
Unifying action
A combination of three actives « Oligopetide-68® + L-Arginine® + Triticum aestivumextract® », the MEL'OYA®technology, the first patented dark spot correcting technology specifically developed for dark and olive skin tones. European patent EP2705830/A1 and international patent WO2014/037111/A2.
Hydrating action
A combination of hydrating actives (moringa oil, desert date, shea butter) and soothing actives (bisabolol, balanites oil) with ceramides for the H2'OYA® technology
Ingredients:
Aqua (water), balanites roxburghii seed oil, moringa oleifera seed oil, acetyl glucosamine, cetearyl alcohol, caprylic/capric triglyceride, glycerin, butyrosperum parkii (shea) butter, niacinamide, linoleic acid, xylitylglucoside, anhydroxylitol, cetearyl glucoside, glyceryl stearate, benzyl alcohol, triticum aestivum extract, butylene glycol, bisabolol, parfum (fragance), tocopherol, acacia senegal gum, xanthan gum, xylitol, ceramide np, dehydroacetic acid, arginine hcl, disodium edta, sodium hydroxyde, glycine soja (soybean) oil, hydrogenated lecithin, oligopeptide-68, sodium oleate, linolenic acid.
Our ingredients developed from Pharmacope AFR'OYA:
Apply My Corrector Unifying Moisturising in the morning and evening on the face, neck and décolleté on clean skin. No rinse formula.
This daytime lotion, formulated for use in every woman's daily skincare routine, can be used under your make-up.
If you have dark spots, you can use MEL'OYA® My Correcting Serum in the evening directly on spots before applying My Corrector Unifying Moisturising. Use My Sun Fluid after applying the Corrector to keep a unified complexion.

For personnalised advice, you can contact your pharmacist or send us en email at contact@inoya-laboratoire.com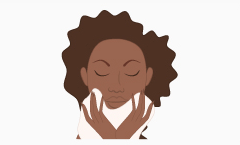 Clean your face with my Micellar Water and gently dry your face using a soft cloth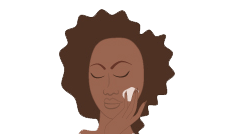 Apply my Corrector Unifying Moisturising on your face, neck and décolleté
Apply my Sun Fluid to keep a unified complexion
Related articles in the OYA Blog
Choosing the right sun protection for dark skin
Many people believe that having brown skin means you don't need to protect it from the sun. But is that really true? Eumelanins , pigments in dark and olive skin, protect your skin against sun exposure (and more precisely against UV rays)....