MEL'OYA® My Correcting Serum
The first patented dark spot corrector technological innovation specifically formulated for dark and olive skin tones.
Designed as a curative treatment, this serum is effective on all types of spots due to hyperpigmentation (inflammatory, sun, hormonal). It eliminates existing spots and preventing new ones without any side effects.
EARN 225 POINTS BY PURCHASING THIS PRODUCT!
> You need to be a member of the OYA Club to benefit from these points
This product is no longer in stock
Availability date:
My Correcting Serum is a milky lotion that has a remarkable effect on existing spots. It eliminates and corrects spots due to hyperpigmentation on the face and body right at the source. 
Derived from an exclusive « MEL'OYA® » technology developed by IN'OYA Laboratoire in cooperation with France's leading scientific labs (CNRS, INSERM), this dark spot correcting formula offers unprecedented results that have been scientifically proven and clinically tested. Designed as a curative treatment, My Correcting Serum acts on all spots caused by hyperpigmentation (inflammatory, sun, hormonal) from 28 days of use.
My Correcting Serum is fragrance free and has a light, non-greasy feel. It is suitable for all skin types (dry, combination, oily).
Clear reduction in spots in 91% of testers from 28 days of use.
No side effects in 100% of volunteers.
My Correcting Serum is paraben-, hydroquinone- and colouring-free and contains 95% natural ingredients.
Non-comedogenic
Dermatologist tested

Our star actives:
A combination of three actives « Oligopetide-68® + L-Arginine® +Triticum aestivumextract® », the MEL'OYA® technology, the first patented dark spot correcting technology specifically developed for dark and olive skin tones. European patent EP2705830/A1 and international patent WO2014/037111/A2.
The MEL'OYA® technology, in addition to specifically blocking Tyrosinase, inhibits a second essential enzyme found in dark and olive skin tones: Tyrosinase-Related-Protein1, or TYRP 1.
Ingredients:
Aqua (water), pelargonium graveolens flower water, glycerin, niacinamide, acetyl glucosamine, triticum aestivum extract, acacia senegal gum, butylene glycol, xanthan gum, benzyl alcohol, tocopherol, aloe barbadensis leaf juice powder, arginine hcl, disodium edta, dehydroacetic acid, sodium hydroxide, glycine soja (soybean) oil, hydrogenated lecithin, oligopeptide-68, sodium oleate
Our ingredients from Pharmacope AFR'OYA:
Apply My Correcting Serum on spots on the face or body at night, without rinsing. For use during the day, use My Sun Fluid after applying the Serum.
This dark spot Correcting Serum can be used under your usual skincare products (moisturiser, wrinkle serum, etc.) and is formulated for use in every woman's skincare routine.
For optimal effectiveness, use My Corrector Unifying during the day. 
To speed skin cell renewal and optimize the effectiveness of the spot correcting treatment, use My Gel « Cleanser Exfoliating » before applying the serum.
For personalised advice, you can contact your pharmacist or send us an email at contact@inoya-laboratoire.com.
Gently clean and dry your skin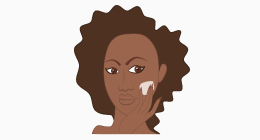 Apply My Correcting Serum at night to spots on your face
You can also use My Correcting Serum on spots on your body, preferably at night
Related articles in the OYA Blog
Ibrahim, 23 years old : Painful acne pimples
Ibrahim :  I contacted the IN'OYA team because I was really tired of all the acne spots I had on my face. I had tried a lot of different products, I had seen a dermatologist and started treatments but nothing had worked and I was really...