Flashy, neon, neon and even glittery eye makeup is making a very noticeable comeback on the trendy side. A true expression of joy, this trend of luminous colors has invaded the canvas, the catwalks and has recently become a place in our daily lives. Black and mixed skin are particularly sublimated thanks to these textures rich in colored pigments.
All pretexts are good to dare flashy shades, glitter. Surprise your lover for an improvised dinner, energize the atmosphere of a video conference a little long or celebrate the carnival at home! Break the routine and treat yourself to a style just "Wow"!
We present in this article the variants of a colorful makeup, in order to send you, dear Oyas, a beautiful positive energy.


What exactly is neon or neon makeup?

You may have already attended a neon-themed event (bachelorette party, birthday, New Year's Eve, etc.). We sometimes make up the face and body. One then becomes bright from head to toe in contact with black light. Sticks, bracelets and neon party accessories often complete the outfit. One can accentuate the style by wearing jewelry, tights, mittens and a neon wig.
Among the flashy palettes, there are also phosphorescent makeup products. Unlike fluorescent textures, these do not need a UV lamp. All it takes is a little bit of exposure to artificial light and then shine in the dark! With this type of make-up, you will be visible at night, like a fairy in an enchanted world!
Traditionally perceived as party makeup, fluorescent makeup is also called "neon". In reality, the sparkling power of these hyperpigmented shades gives a flashy effect in broad daylight. Even without UV light, the result is impressive. This is especially true for black skin. The face is instantly sublimated with a few pop pop pop touches.
So, for some time, we have been observing this make-up with bright tones in more classic circumstances. It becomes essential to break the codes and bring the party home or why not to the office ! Do you also want to be seduced by this joyful and vitaminized trend?
We present our selection of flashy, fluorescent, neon and glitter inspirations, with the bonus of a superb tutorial for a multicolored flashy makeup offered by a professional !


How to make a neon, pop or multicolored makeup?

You can create different types of makeup with neon, pop or flashy colors. Before you start, remember to prepare your skin well to receive these highly pigmented products. This step is essential for a beautiful rendering and a good hold. It is important to nourish your epidermis, after thoroughly cleansing it, with a moisturizer. It will serve as a makeup base.
Note that for sophisticated make-ups, the usual makeup steps may vary. The foundation is spread with a brush, after the eyes. This trick avoids dirtying the face with eyeshadow falls.
If you're new to these flashy shadow palettes, you can easily start with a single neon or pop tone. And even with a unique color but rich in pigments, you can vary the effects of styles. In simple halo eyelid, or in eye liner, in fine lines ... Let your creativity speak like our Oya @bene_mlle!
Impressed by the technique? No worries, here is a tutorial to make this multicolored makeup at home.


Vitaminize your look with a single neon or pop color



A dash of electric pop blue eyeliner illuminates the eye. The yellow tip sublimates the whole.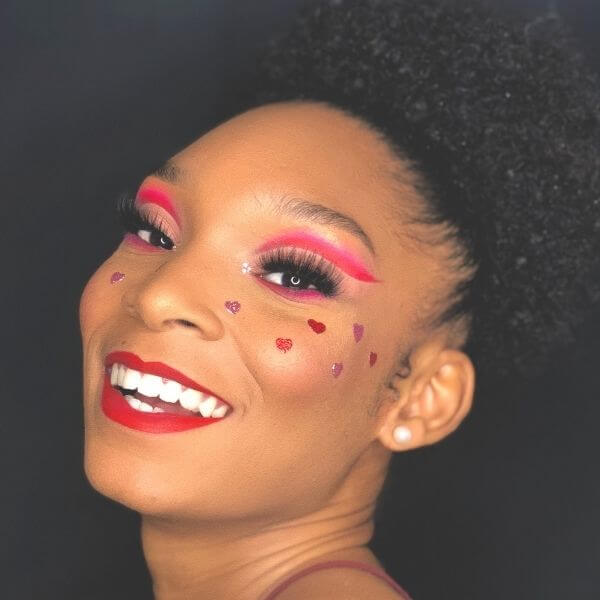 Originality, for a glamorous and sexy Valentine's Day. We fall for this wave drawn in flamboyant red without hesitation!
A turquoise halo for a mesmerizing passion blue look
Bold make-up for this soft gradient of fir green, tart green, golden and neon yellow

Sophisticate your look with rainbow eyelids


With this multicolored makeup placed on the eyelids. The mouth remains transparent, glossy, slightly nude.


Dare to shine with the glitter trend!

This madness of hyper pigmented colors is sometimes influenced by the glitter trend. We then sprinkle our faces with glitter or stars for a magical moment.
At In'Oya, as you know, we love natural beauty. But we also love to dream and escape into enchanted universes! The little girl, who sleeps in each of us, marvels at the pearly powders, rhinestones and stars with bright reflections.
Let yourself be tempted by the "mermaid" hues: blue, turquoise, purple and pink. They go well with silver rhinestones or tone on tone. Iridescent shadows sometimes associate with others, more matte. The contrast of colors and the "glitter" side on black or mixed skin is magnificent. Adopt a nude lipstick, or in the same shades as a violin.
Finally, we can't resist telling you about the carnival trend ! Side colors, glitter and rhinestones, everything is allowed! Of course, some will be more comfortable than others to make this flashy makeup. But with a little practice and a tutorial run by a real pro, you can impress your friends, colleagues or lover. Your kids will love it!
Glitter is deposited between the mobile eyelid and the lower eyelid. They sublimate a delicate shade of purple and purple pink.
The colors blend perfectly for a fairytale spirit dotted with bright stars
Neon yellow, jungle green and matching rhinestones... An energizing mix that makes you want to dance a frenzied samba. Ready to sway?