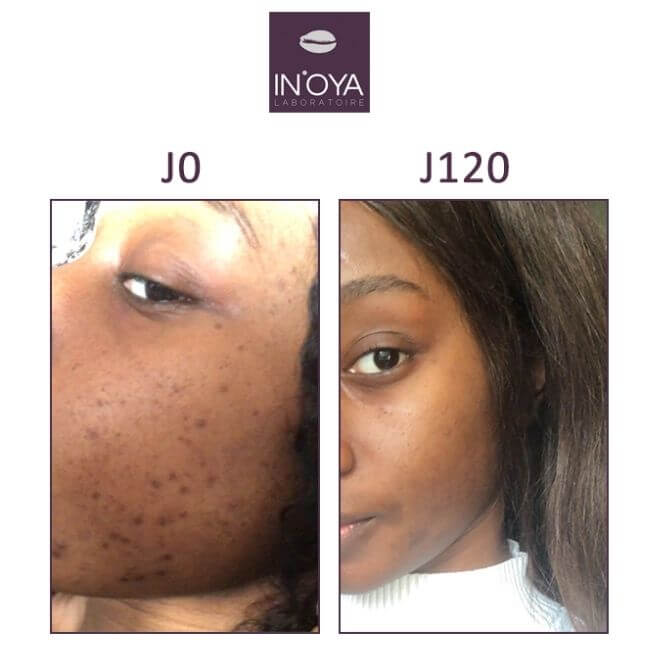 Maryama : 
« My Correcting Serum : my miracle after so many years !
I'm really glad I had the opportunity to try this serum because I've had hyperpigmentation spots all over my face since I was a teenager. They were getting worse depending on the situation and since I discovered this serum it has been really effective. It is not complicated to use. It's fluid, light, odorless and absorbs quickly.  That's what I really liked about this product.
You could say that I had really tried everything, even depigmentation without any correct effect in the long term. And now, BIM ! The Correcting Serum has really helped to fade my spots, to make my complexion even, without any side effects like I knew before.
I really thank IN'OYA for this innovation. »
Maryama used :
- My Foam Purifying Cleansing : Morning and evening to cleanse and matify the skin by regulating excess sebum.
- My Correcting Serum : Every night on spots of hyperpigmentation, on clean and dry skin.
- My Gel "Cleanser Exfoliating Scrubbing" : Every evening for 15 days then 2 to 3 times a week with emphasis on the areas to be treated.
- MEL'OYA® & H2O'OYA® My Corrector « Unifying Matifying» : Every morning to matify and unify your skin
- My Dietary Supplements Unifying & Radiant Complexion : Every evening, one capsule after the meal.