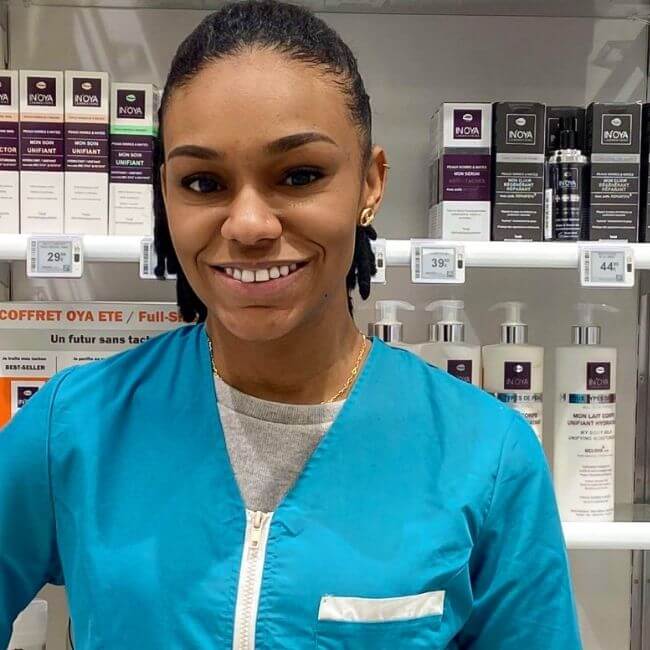 Discover Interview Chloé, IN'OYA pharmacy manager in the Happy Pharmacie in Toulouse. 
CHLOÉ, COULD YOU DESCRIBE YOURSELF IN 4 POINTS ?
My name is Chloé and I am originally from Martinique.
I am a pharmacy assistant and responsible for the IN'OYA range at the Happy Pharmacie in Toulouse. People often say that I am smiling, jovial and a good listener.
WHAT IS THE DIFFERENCE BETWEEN COSMETIC AND DERMOCOSMETIC CARE?
According to me, a cosmetic care is only intended to beautify, clean, perfume and modify the aspect without being able to treat a particular dermatological pathology.
Whereas a dermocosmetic care is a high quality product, that is to say a genuine product in terms of composition. The consumer finds a certain confidence in this type of care because not only is its effectiveness demonstrated by research and a large number of scientific and technological innovations, but it can also be prescribed by a specialist.
WHY DO YOU THINK DERMOCOSMETICS SHOULD BE PREFERRED?
Dermocosmetic care should be favored because it is accessible to everyone, and more so for atopic skin. They act more deeply in the different sub-layers of the skin. It therefore requires specific advice adapted to the patient's skin type and dermatological problems.
HOW IMPORTANT IS PHARMACEUTICAL ADVICE IN DEVELOPING A GOOD SKINCARE ROUTINE?
A patient who comes to the pharmacy for skin problems expects advice and real support from the entire pharmacy team. Pharmaceutical advice is important because it will be more precise, more elaborate and more concrete depending on the care already provided by the customer.
Through our expertise, we are able to target but also observe the problems and mistakes made by patients during their routines. Thanks to this, together, we can set up a more complete routine that meets the client's exact needs. 

SINCE 2016, 
HAPPY PHARMACY
 HAS BEEN REFERRING IN'OYA PRODUCTS. WHY DO YOU TRUST THE BRAND?
We have been involved in the INOYA adventure for all these years, because it is exactly what was missing from our shelves! Products that are studied, effective and safe for black, matte and mixed-race women.
As we have a huge Afro clientele, we also offer animations with skin diagnoses accompanied and advised by experts from the IN'OYA laboratory.
These animations are very successful in our pharmacy.
WAS MY 3-IN-1 EYE CONTOUR "ANTI-DARK SPOT, DARK CIRCLES, PUFFINESS" A PRODUCT YOUR CLIENTS WERE WAITING FOR?
Yes, absolutely, it's a product that I recommend to my clients because unfortunately not everyone knows how to deal with the problems encountered around the eyes, especially when it comes to dark circles or puffiness.
There are not many products that cover all the problems of the eyes and "My Eye Contour 3-in-1" answers exactly to the demand.
WHY WOULD YOU RECOMMEND MY 3-IN-1 EYE CONTOUR "ANTI-DARK SPOT, DARK CIRCLES, PUFFINESS"

  

RATHER THAN ANOTHER GENERAL BRAND?
My 3-in-1 Eye Contour " Anti-dark spot, dark circle, puffiness " has a high ophthalmological and dermatological tolerance.
Thanks to its packaging, it will activate the blood circulation with the help of the roll-on ball which will create this cold and comforting effect that we expect from a classic eye contour.
It will decrease the bags and the rings easily because it contains several active ingredients such as the caffeine and the ruscogenin which will tone up and blur the rings and the bags. It is also committed to moisturizing the skin thanks to active ingredients such as aloe vera and hyaluronic acid present in its composition. Its real plus, it also contains the patented MEL'OYA EYES® technology to treat dark circles that are specific to black skin!
WHAT IS YOUR IDEAL ROUTINE FOR TREATING DARK CIRCLES AROUND THE EYES?
First of all, you should opt for a healthy lifestyle and regular, restful sleep, which in the long run will help you to have fresh, relaxed eyes.
Then:
- Think about moisturizing the eye area with cucumber or aloe vera for example.
- For hyperpigmentation, it is necessary to use a specific anti-stain eye contour care.
- Makeup removal is also a very important step that should not be neglected.
- Avoid using unsuitable and/or irritating cleansing products that will further sensitize your eye area.
- Sun protection should become your best friend to limit the darkening of your eye area.
WE CAN NOW FIND THE NEWS OF YOUR PHARMACY ON INSTAGRAM WITH THE ACCOUNT @PHARMACIE.HAPPY, WHY HAVE YOU DECIDED TO PUT ON SOCIAL NETWORKS?
Social networks ?!  It is THE springboard for direct communication which allows us to increase our visibility and to make discover : The team, the pharmacy, offers, products, animations at the pharmacy or contests on the platform.
Above all, it allows us to answer questions and to manage the customer differently but in "real time".
It is the essential space to share and publish content at HAPPY PHARMACIE because we like to share and make people smile! Don't hesitate to follow us on Instagram and Facebook  : @pharmacie.happy @coco7.77