100% secure payments
Next
Previous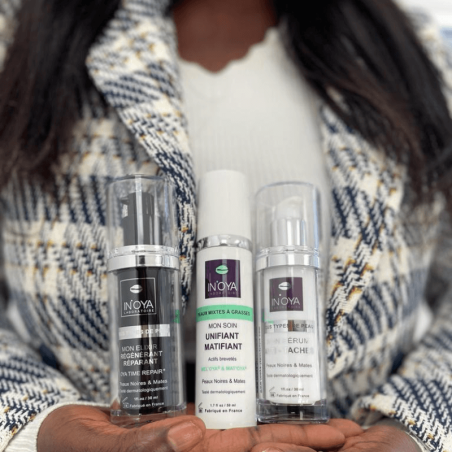  
---
---
Product details

Discover in video

Terms of Use and Ingredients

Customer reviews

Your Routine
I TREAT MY SPOTS AND REGENERATE MY SKIN
Let yourself be tempted by My OYA Pack I treat my spots and I regenerate my skin and its 3 essential products. Follow this complete skincare routine for spotless, regenerated and unified skin!
Type of product
Anti-spot routine and regenerating face combination to oily skin
Need
Boosts the radiance of the complexion and treats the spots
For a complete routine "Anti-spots" and "Regenerating", adopt My OYA Pack I treat my spots and I regenerate my skin! Treat your spots at the source, regenerate your skin and keep an even complexion all year round! Thanks to a selection of our experts in black, matte & mixed skin, use the best for your skin and keep an even complexion and a regenerated, plumped and hydrated skin. This pack contains: My MEL'OYA® "anti-stain" Serum - 30 ML: the 1st patented "anti-stain" technological innovation, specific to black & matte skin. For curative purposes, this Serum is effective on all types of hyperpigmentation spots of the body and face (inflammatory, solar, hormonal). Without side effects, it removes existing spots and prevents their appearance. My Repair repairing Elixir REPAIR'OYA® - 30 ML: ideal for all skin types (dry, combination or oily), this night care protects the skin against external aggressions and slows down the signs of aging for a detoxified, plumped and rejuvenated skin. My Mel'OYA & MAT'OYA®® " Mattifying Unifying Care - 50 ML: ideal for combination to oily pigmented skin. This "Unifying Matifying" care complex provides a double "Unifying" action combined with a "Matifying" action. For preventive purposes, it regulates the level of sebum, unifies the complexion and tightens the pores in black & matte skin.
I TREAT MY SPOTS AND REGENERATE MY SKIN
My MEL'OYA® "anti-stain" Serum is to be applied topically to the areas of spots to be treated (face or body) only in the evening, without rinsing. For use during the day, then apply My Solar Fluid SPF 50 SUN'OYA®. My Elixir «R
A composition of patented active ingredients dedicated to pigmented skin to treat your spots and protect your skin from the sun. Action "Anti Stains" MEL'OYA®: A synergy of 3 active ingredients "Oligopetide-68® + L-Arginine® + Triticum aestivumextract®" making reference
Overall Opinion
4 Opinion
You too, do not hesitate to give your opinion
1 review posted = €5 free
Marie Jeanne Sylla (DOLE, France)
23 July 2023
Bjr à tous et toutes,j'ai eu la chance de découvrir enfin un bon produit. J'ai 59 ans je suis africaine ,j'ai un hyperpigmentation sur les zones du visage qui s'aipaissaient en plus .Au bout d'un mois j'ai vu une belle amélioration grain lisse ,tache atténuées .Car je suis bien conseillé pat l'équipe inoya. Le seul petit soucis c'est les rupture de produits.Sinon recommandé sérieusement.
Marella (LYON (69003), Metropolitan France)
17 October 2022
Top comme pack
Eloïse (Grand-Bourg, Metropolitan France)
28 March 2022
Effet garanti.
Exaucée (Pointe-noire, Congo, Republic)
29 January 2022
Bonjour j'ai une peau mixte à grasse avec une forte démarcation au niveau du front (mon front et mes joues étaient plus foncés que le reste de mon visage) mais je n'ai jamais utilisé de produits décapants. Depuis le 21 décembre 2021, j'ai commencé à utiliser les produits inoya à savoir : le sérum unifiant, la crème matifiante, le gel nettoyant, la mousse purifiante et le produit que j'aime par dessus tout le fluide solaire, tout mon entourage est unanime, ma peau est éclatante de santé. Je vis au congo brazzaville et j'avais déjà tout essayé allant de la roche posay en passant par avène, clarins, uriage, topicrem bref plusieurs cosmétiques... Mais avec inoya ma peau est plus belle. Pour moi qui ne me maquille jamais les produits inoya je conseille les yeux fermés. Je pense très bientôt me procurer l'elixir regénérant!!! Merci Inoya car grâce à vous je retombe amoureuse de ma peau!!!
by us
for us
efficiency
proven
customer reviews
certified
ingredients
of natural origin
protocol of
personalized care
team
multi-ethnique
diversified