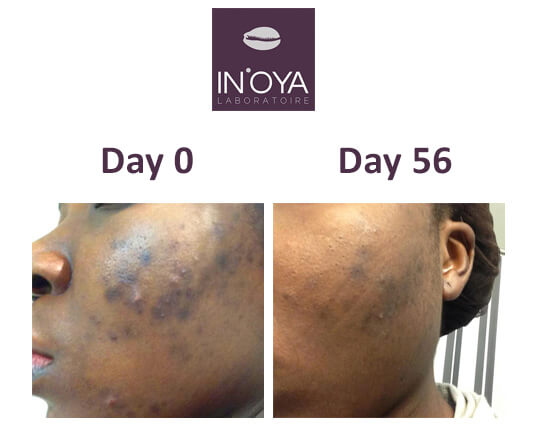 Edwige, 19 years old:
"I had acne since adolescence and so now I have dark spots. I have had to see a dermatologist but the treatments he prescribed me were only effective for 3 months maximum, and the acne returned along with the spots.
I discovered IN'OYA at the end of June 2015. I noticed that their research was directed at darker skin. I was interested and at the same time skeptical. They promised me that in 60 days, I would achieve a noticeable reduction in my spots by using the MEL'OYA® Correcting Serum.
I asked myself if this was truly possible and saw that I needed to get in touch with them in France. I questioned myself more and more. However, I made the order and then the package arrived within 7 - 10 days to me in Canada. From then on, the IN'OYA team got into contact with me to find out if the product was working.
As for my spots, they decided to offer me personalised care to optimise my results. I had access to the whole IN'OYA range: the MEL'OYA Complexion Correcting Serum, the MEL'OYA® Corrector Unifying Matifying and the ACN'OYA® Skin Care Anti-imperfections as well as a sun protection product, a CLEAN'OYA® Foam Purifying Cleansing and the CLEAN'OYA® EXTRA Gel Cleanser Exfoliating. They provided me with the instructions and I followed them for 60 days. The team listened to me for the whole treatment period. The most recent spots were not considerably diminished and the older ones left gradually.

Would I recommend the IN'OYA brand? Yes. However you must be patient because older spots will naturally take longer to get rid of."
Add to favourites
Would you like to add your testimonial? Nothing could be simpler, just send us an email to contact@inoya-laboratoire.com