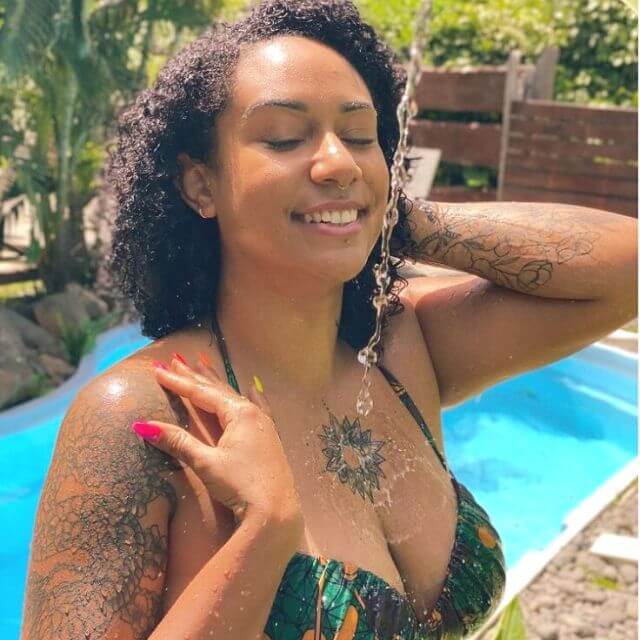 You dream of getting a tattoo, but you don't dare to take action. You've heard so many things about it: the impossibility of getting a tattoo in colour or with details, the difficulty of healing. These preconceived ideas are sometimes even spread by professionals in the trade. So, what is it? 
In reality, a lack of knowledge of black skin and misinformation can explain this phenomenon. In'Oya takes stock. 
WHAT OPTIONS SHOULD YOU CONSIDER FOR TATTOOING YOUR BLACK SKIN?
You've spotted a nice tattoo design on Pinterest or Instagram. Unfortunately, you hesitate to take the plunge, because you doubt its feasibility and the final result on your skin. To help you out, here are the most common questions about tattoos on black, dark and mixed skin.
COLOUR TATTOOING ON BLACK SKIN: A DREAM COME TRUE?
Rest assured, it is possible to get a colour tattoo if you have dark skin. You don't have to restrict yourself to black ink. In fact, you can easily find examples of successful coloured tattoos on the web. However, there are a few things you should know. 
In fact, there are many different shades of black skin. The results vary according to these shades. A tattoo artist is able to analyse which colours react best over time. He has learned to observe how black, dark or mixed skins respond to them. He selects the most suitable ones. An expert tattooer of the black skins has the aptitudes to recommend such or such colours. He recognizes those likely to embellish your shade of skin. He must be able to determine, according to your skin tone, the final rendering of the desired shade.
Generally, black skin tattoo professionals recommend avoiding white and yellow, whose evolution is uncertain afterwards. Too pale an appearance could compromise visibility in the long term. Purple is also not recommended, as it does not blend well with most darker skin tones. 
On the other hand, they recommend intense warm tones for coloured inks. They complement the basic black or grey: 
Ruby red, deep red

Orange

Salmon

Coral

Peach

Pink

Olive green, etc.
Tattoo artists with experience of dark skin are used to offering colour tests. They do small dots or a pattern without detail. This step is a good technique to get a tattoo without risk. The result of this test allows you to commit to a larger tattoo. 
DETAILED TATTOO ON BLACK SKIN
Another common misconception about tattooing on black skin is that the design must be simple to be readable. In practice, a professional can create a detailed style on dark skin. The choice of design is a conscious one: dark skin can carry complex designs just as well as light skin. But there are characteristics that must be taken into account in the design. 
The design of the tattoo will, in both cases, be developed according to the specific tone of the person. The artist takes into account the balance between the free space and the black line. He integrates the scale of the drawing before transferring it to the skin. He examines the figure and the background, giving real care to the overall rendering. 
He often suggests an airy pattern with strong contrasts to enhance the result on very dark skin. In addition, he carefully considers the specifics of the body of the person to be tattooed. The curves and the volume play a determining role in the final result. 
HOW TO MAKE A SUCCESS OF A TATTOO ON BLACK, DARK OR MIXED SKIN ?
Getting a tattoo on the skin is not a trivial gesture. It is a transformation of the epidermis. In any case, as soon as a modification is brought to the cutaneous cells, it is important to be aware of the risks which this intervention involves. 
The success of tattooing implies to be foresighted on two essential points. You need to find a tattoo artist who specialises in black skin and take the time to talk to them about healing.
CHOOSING A TATTOO ARTIST WHO SPECIALISES IN BLACK SKIN
Logically, a qualified tattoo artist can work on : 
All the surfaces of the body

Skin that has lost its elasticity

Skin with a birthmark

An area with stretch marks

Skin with imperfections, etc.
Logically, the mastery of tattooing is valid for all skin tones. It should be a basic skill for a qualified professional. However, it is not that simple. 
It is a bit like looking for a hairdresser who can take care of your frizzy hair. An experienced hairdresser is supposed to be able to handle all hair types. In reality, many people are completely unaware of the specificities of Afro hair. This can be applied to tattooing. 
The ability to work on darker skin is put aside as if it were only for professionals targeting a niche sector. Yet it should be an obvious part of training. Indeed, by definition all skin types are different. It is thus essential that a professional tattooist masters all the cases, in order to be able to answer all the requests. The level of melanin should not be a blocking constraint. 
This is why it is important to be aware of these elements when contacting a tattoo artist. You can choose a style, a design for your next tattoo. But checking his skills, his ability with the different tones of black skin and his expertise are fundamental. Make sure you use a tattoo artist who is qualified and widely recommended for darker skin tones.

PROMOTE POST-TATTOO HEALING OF BLACK SKIN
The risk of a bad healing after a tattoo is possible. It is a risk that also exists for light skin, but it is higher for dark skin. It is related to the specificities of black skin regarding healing. This process of skin regeneration is naturally longer. 
This is why tattoo artists must take this characteristic into account. Their approach must be adapted to promote good healing. Keloids (deep scars) are generally the result of a poorly executed tattoo: too intense a gesture, overworked skin tissue, etc. 
The particularity of working on dark skin is explained by its thickness and its lack of transparency. Black skin differs from white skin by its higher melanin content. It is less contrasted which can influence the visibility of the tattoo.
The technique involves injecting dyes into the dermis. This ink is fixed under the dermal-epidermal junction. The intensity of the natural pigments will therefore reduce the transparency of the skin. 
But tattoo artists who specialize in black skin know that it is not beneficial to apply more tension. It is not necessary to apply deeper to make the tattoo visible. These practices result in unnecessary pain and scarring. These methods cause significant collagen growth in response to the actual trauma to the skin. 
Thus, a professional acts consciously to prevent scarring. He carefully controls the level of pressure in his gestures. He can reduce the power of the manipulation and take care not to go over the same spot again. He also controls the type and depth of the needle to avoid keloids. These scars can be recognised by the appearance of excess tissue, or blisters. 
To maintain a good appearance, it is essential to take care of the affected area. You should apply a specific post-tattoo treatment in a rigorous manner. At the same time, you should cover the tattooed area to protect it from the dangers of the sun for the first year. Thereafter, refrain from long exposures. 
It is true that the black skin benefits from an important protection thanks to the natural pigments present in the hypodermis. However, it is essential to systematically apply a high factor sun cream on your tattoo... as on the rest of your body, of course!
Add to favourites