ACN'OYA® My Targeted Corrector « Local Imperfections »
Developed with patented dual technology and perfectly suited to dark and olive skin, My Targeted Corrector is an effective ally in treating blemishes directly to eliminate spots and reduce the appearance of residual marks.
EARN 85 POINTS BY PURCHASING THIS PRODUCT!
> You need to be a member of the OYA Club to benefit from these points
This product is no longer in stock
Availability date:
My Targeted Corrector provides immediate, fast and targeted action to effectively heal severe blemishes and reduce inflammation.
Developed using the patented « ACN'OYA® » technology and specifically for acne-prone dark skin, My Targeted Corrector neutralises acne-causing bacteria to reduce inflammation and heal blemishes. It is ideal for treating light acne and eliminating occasional spots, such as those that appear during your period.
Thanks to the patented « MAT'OYA® » technology, sebum production is regulated, the complexion is smoothed and shine is eliminated.
The fragrance-free My Targeted Corrector Local Imperfections has a natural scent from its main actives, including tea tree oil. Its light texture and precise applicator make it easy to apply the product directly to blemishes.
Clear reduction in blemishes in 97% of testers from the first week of use
Clear, blemish-free skin
Immediate, fast and targeted action
A combination of several actives and two patented technologies, ACN'OYA® and MAT'OYA®, for effective, fast and targeted action.
Anti-blemish action:
ACN'OYA®: The first patented anti-blemish technological innovation specifically formulated for black and brown skin tones. It is antibacterial, anti-spot and anti-inflammatory and acts mainly on the bacteria that cause acne, P.acnes.
Mattifying action:
MAT'OYA®: An innovative action developed from enantia chlorantha extract, a tree native to Africa found in Cameroon. It has a remarkable action on the proliferation of cells that produce sebum as well as on 5 alpha-reductase, enabling it to lower sebum production at the source and visibly reduce shine.
Anti-inflammatory action:
A unique combination: tea tree oil, Senegalese white hibiscus and Senegalese baobab fruit
Essential tea tree oil is known for its many antibacterial, antifungal and anti-inflammatory virtues. It is as effective as benzoyl peroxide, a standard treatment for light to moderate acne, and has no side effects. The unique combination of Senegalese white hibiscus and baobab fruit extracts stimulates the genes responsible for skin firmness, resulting in smooth, blemish-free skin.
Ingredients:
Aqua (Water), Silica, Propanediol, Niacinamide, Glycerin, Butylene Glycol, Polyacrylate Crosspolymer-6, Triethanolamine, Salicylic Acid, Zinc PCA, Melaleuca Alternifolia (Tea Tree) Leaf Oil, Xylitol, Enantia Chlorantha Bark Extract, Hibiscus Sabdariffa Flower Extract, Adansonia Digitata Fruit Extract, Helianthus Annuus (Sunflower) Seed Oil, Anhydroxylitol, Tocopherol, Xylitylglucoside, Allantoin, Polyglyceryl-3 Cocoate, Caprylyl Glycol, Polyglyceryl-4 Caprate, Polyglyceryl-6 Caprylate, Sodium Hydroxide, Polyglyceryl-6 Ricinoleate, Xanthan Gum, Chlorphenesin, Limonene, Linalool, Oleanolic Acid.
Our ingredients from Pharmacope AFR'OYA:
Apply My Targeted Corrector Local Imperfections directly on blemishes in the morning and/or evening without rinsing. 
To speed skin cell renewal and optimize the effectiveness of the blemish correcting treatment, use My Gel Cleanser Exfoliating before applying the gel.
Complete the treatment by using the MEL'OYA® My Correcting Serum directly on dark spots without rinsing for clear, blemish-free skin. For optimal efficacy, use My Corrector Unifying during the day. 
For personalised advice, you can contact your pharmacist or send us an email at contact@inoya-laboratoire.com
Gently cleanse your skin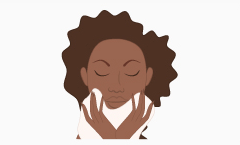 Gently dry your skin with a cloth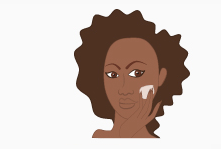 Apply My Targeted Corrector Local Imperfections directly on blemishes in the morning and/or evening
Related articles in the OYA Blog
The changes I've seen each month have assured me of how good the IN'OYA products really are
Wendie, 26 years old: " I contacted IN'OYA Laboratoire in October 2014 because I had been suffering from   very oily skin , spots, as well as numerous   dark spots  on my face for over 10 years, caused by acne and the use of skin...