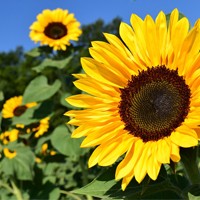 PLANT CERAMIDS
Description
Derived from Sunflower oil (Helianthus Annus Seed Oil) or in some aquatic plants, ceramids are part of the essential skin lipidic elements. They form a protective barrier on the skin and help fighting dehydration.
Origin
Sunflower culture, from which Plant ceramids come from, is being experienced since a few years in West Africa, particularly in Mali where 10 000 hectares of land were saved for this culture.
Effect
Plant ceramids are a protective barrier for the skin. Protecting it from dehydration, they help it maintain hydration and they protect it lastingly. Black and brown skin tend to have a very low level of ceramids.