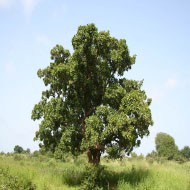 Previously known as Butyrospermum Parkii or Shea is known for the butter obtained from its seeds. These fruits contain a very oily kernel. It's this fatty substance from the kernel that makes up shea butter, which possesses nourishing, hydrating and restorative properties. 
This tree is present only in the wild in the wooded savannah of West Africa.
The fruit of this tree contains a nut which, once pressed, allow us to make shea butter. This butter possesses numerous properties for the skin. It is nourishing, restorative, hydrating, healing and protects against UV rays.
OUR PRODUCTS WITH THIS INGREDIENT