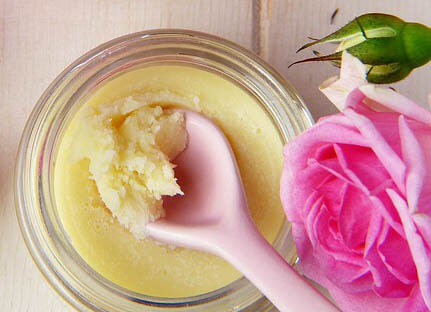 On the occasion of our support to Kelina association, that helps children from Benin, we are going to make you discover through this article the wealth of shea butter from Benin for your skin.  
Today we are driving you in an adventure in the fields of tree of shea, because Benin is one of the biggest productor of shea butter. Its several benefits makes it be the must have component of numerous beauty routine. Do you know that its one of the major component of your Body Milk «Unifying Moisturizing » ? Plus it is also thanks to the shea butter that we ensure your skin to be nourrished for 24 hours. Dear OYA, the listing of all its benefits is still long but here is some of it super powers for your skin that you should absolutely know !
A powerful moisturizing for dry to extremely dry skins
When we got black skin or matt, we are tend to have body skin dry or very dry. Those women has to moisturize their skin often and deeply to avoid that issue. To do so, we recommend you to trust the benefits of Shea Butter to ensure deep and lasting moisturization. Rich in vitamin A, D, E, F it penetrate deeply the epidermis to avoid the skin dryness. Your skin is nourished and adds softness and radiance to the skin.
A weapon anti-ageing
As time passes the skin tend to loose its elasticity because of a lost of collagen and elastin. This phenomenon is the responsible of the apparition of wrinkles. Even though reccording to the famous Anglo-Saxon expression « Black don't crack », the black skins resister very well to sign of aging. But dear OYA you should know that shea butter is your best ally to sustain this gift. In fact, it is rich in vitamin F and fatty acid, two components that allow the skin to have good elasticity and suppleness again. To sum up, apply Shea butter could definitely prevent wrinkles to appear and could become your cure anti-aging.
Fight against stretch marks
Are you in pregnancy period or are you afraid to get stretch marks ? The shea butter is a perfect way to prevent them to appear. It boost the collagen production in order to have good elasticity and firmness again. Immediately during the first month of pregnancy, you just have to apply a thick layer of shea butter especially on the part that are in general well touched such as : the belly, the hips, the thigh and the breast. Indeed, you will reduce the risk to be marked for the rest of your life. 
The beauty of secret of Flora Coquerel France Miss of 2014

As good for your skin as for your hair, the shea butter is moreover one of the beauty secrets of Flora Coquerel, the founder of Kelina. Originally from Benin she keeps doing the good beauty routine she herited from her mother. To nourish and moisturize her beautiful curly hair she use et recommend the use of shea butter.
Do not forget between from 01/07/18 to 31/07/18
Take care of your skin by doing a good action!
We donate 1 € of your order to the association KELINA
Add to favourites