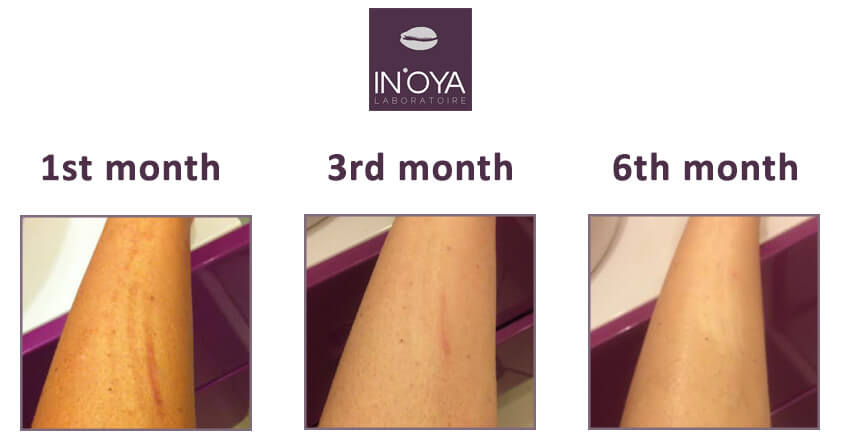 Hello, I am Nathalie and I am 40 years old. I am a very lucky and happy user of IN'OYA products: My Correcting Serum, My Gel Cleanser Exfoliating and My Sun Fluid SPF50. For 9 months or so, I daily used those "magic" products.
I had very ugly scars on my leg as a sad memory of a fall on an escalator in January 2015. Quite desperate, I was starting to think I would keep them all my life. Indeed, I had tried creams, essential oils, I protected my leg with sunscreen... But despite all that, scars were still there and very visible.
In August 2015, I discovered IN'OYA and the team... Even with my white skin, the team offered me to follow my treatment and sent me a personnalised protocol specific to my skin problems. So I started to use the products in August. And then, as if by magic, I saw results from the first week!
I took pictures of my scars every week (every saturday, at the same spot, with the same light in order to see precise results). Every week, I was thrilled with the resultats! It was incredible, I could not believe it!

Today, after 9 months of treatment, I can say that my scars are almost completely gone... It is like a miracle! IN'OYA really works, even on white skin. You just have to look at my pictures, no words can explain it. I thank IN'OYA from the bottom of my heart. Thank you Eve for your follow-up, your availability, your support and your encouragments. I never thought it would even be possible to have such a result. To be honest I was not expecting so much!
Ladies, I highly recommand you to use IN'OYA products. Try it, you will be thrilled by the efficiency. It really is magical!
Thank you so so much!!! Long live IN'OYA!!!

Nathalie used: 
- CLEAN'OYA® EXTRA My Gel Cleanser Exfoliating: Every night on spots areas, ideally on wet skin
- MEL'OYA® My Correcting Serum: Every night on dark spots areas, after cleansing with the Gel
- SUN'OYA® My Sun Fluid SPF50: Every morning, several times a day if exposed (even for a short time)
Add to favourites
Would you like to add your testimonial? Nothing could be simpler, just send us an email to contact@inoya-laboratoire.com