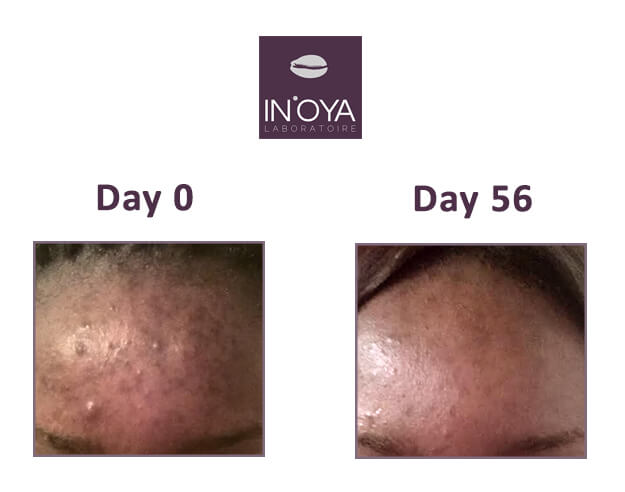 I had the chance to start my treatment with IN'OYA because I was selected after subscribing to My OYA Program. The resultats are really satisfying, the pictures speak for thereselves. 
Spots are disappearing, acne spots are almost gone except a few ones that appear from time to time when hormones decide it!
The state of my skin has visibly changed, I have no more dilated pores, my skin does not feel tight and does not shine either, it is weel hydrated. I am more than satisfied but I keep on hoping that results will get even better.
I wouldn't be so satisfied without the OYA Team, I have no more acne, spots, thank you so much for this very helpful treatment.
Maureen used:
- CLEAN'OYA® My Foam Purifying Cleansing: Every morning and night to clean and purify
- MEL'OYA® My Corrector Unifying Matifying: Every morning after cleansing your face
- CLEAN'OYA® My Micellar Water: Every day, to remove make up and/or cleanse the face and neck
- MEL'OYA® My Correcting Serum: Every night on dark spots areas, after cleansing your face
- ACN'OYA® My Skin Care anti-imperfections: Every night after waiting for the Serum to penetrate skin, on the whole face or localy on imperfections areas
- CLEAN'OYA® EXTRA My Gel Cleanser Exfoliating: 2 or 3 times a week to stimulate skin renewal
Add to favourites
Would you like to add your testimonial? Nothing could be simpler, just send us an email to contact@inoya-laboratoire.com