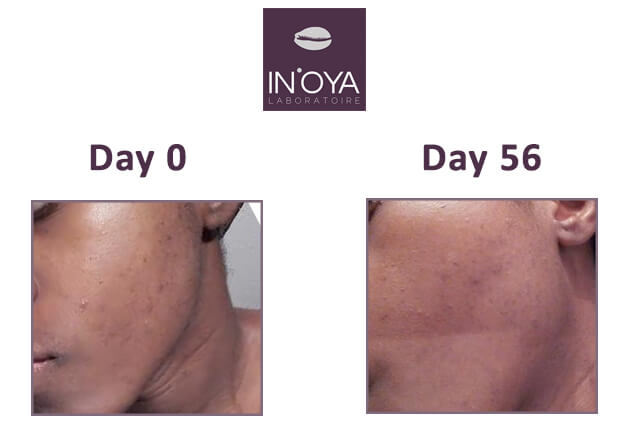 I am 25 and I live in the East of France. Acne spots appeared on my face about 10 years ago. I think it is partly linked to the european climate (with other factors), because I had no problem when I was in Africa.
I discovered IN'OYA in 2015 via The Cocodollzz on YouTube. As I saw the results on her skin, I decided to try using IN'OYA products in February 2016 with My Correcting Serum. My goal was to test this product and, according to the results, to try other IN'OYA skin cares.
After 30 days, I noticed a significant improvement of my spots. I was impressed because they were a lot less visible, and some had completely disappeared. It encouraged me to pursue the treatment for two more months to see the results after 3 months.
I added My Micellar Water to my routine in order to get more results on skin texture. I use it mornings and evenings. I highly recommand My Correcting Serum that I use every night since February 
Thank you IN'OYA, thank you Eve for being so attentive and for the personnalised advice. I won't hesistate to keep in touch if I start using My Corrector Unifying Matifying

Jessy used:
- CLEAN'OYA® My Micellar Water: Every day, to remove make up and/or cleanse the face and neck
- CLEAN'OYA® My Foam Purifying Cleansing: Every morning and night to clean and purify
- MEL'OYA® My Correcting Serum: Every night on dark spots areas, after cleansing your face
Add to favourites
Would you like to add your testimonial? Nothing could be simpler, just send us an email to contact@inoya-laboratoire.com