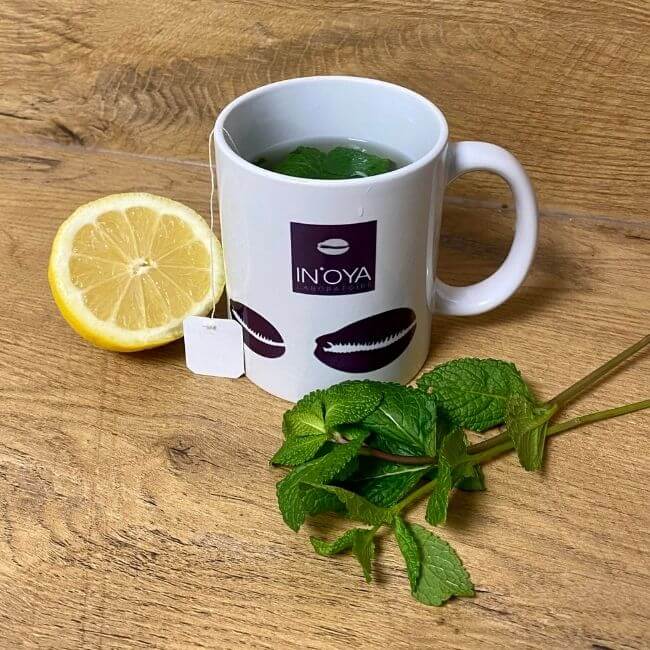 Dull complexion, pimples and imperfections are the result of the excesses of the end-of-year celebrations. It's not surprising, since your skin's function is to eliminate the toxins accumulated by your body. Between Christmas and New Year's Day, the exceptional dishes were invited to the table and your skin didn't really get a break. Don't worry, in just a few days, it is possible to detoxify your body to get a glowing face quickly.
We present you with a special post-party detox program in 3 key steps.
TREAT YOUR SKIN FROM THE INSIDE
Understanding the role of the body's elimination functions
To regain beautiful skin, you need to rid your body of the toxins stored over the course of meals. Holiday menus are, by definition, richer, heavier and sweeter. Puff pastries, foie gras, chocolates, pastry logs... These festive dishes are usually accompanied by wine, champagne and other alcoholic beverages. The excesses sometimes last several days, your body, too solicited, ends up running in slow motion.
Fatigue, blurred complexion, sluggish metabolism, water retention... these symptoms reveal an alteration of the elimination functions. They can no longer ensure a good drainage of the organs. Once the festivities are over, you can reverse the trend and give your body a little rest.
A detox program will help you improve digestion, stimulate and reactivate your natural emptying system. In concrete terms, the stomach is in charge of transforming food to assimilate it, the kidneys and the liver filter waste, while the intestines evacuate it. By targeting your actions on these organs, you contribute to restoring your general state and thus to restoring the radiance of your complexion naturally.
Drain with a targeted detox diet, fiber and lots of water
Your detox cure starts with menus based mainly on foods with draining properties, containing a lot of antioxidants, fiber and water:
Fruits (Apple, kiwi, banana, pomegranate, pineapple, blueberry, cherry...) to be eaten between meals to avoid disturbing digestion.

Whole grains (quinoa, buckwheat, etc.)
Seeds and nuts (chia seeds, flax seeds, pumpkin seeds, sesame seeds, Brazil nuts, pistachios, etc.)
Plant milks (almond, coconut, etc.)
Dried vegetables (lentils, dried beans, chickpeas, etc.)
Seasonal vegetables, raw or steamed or in the form of soups and broths.
Prefer green vegetables for their richness in fiber and potassium, with a draining effect (artichokes, spinach, green beans, etc.). Cruciferous vegetables (broccoli, cabbage, turnips, radishes) are also recommended for their sulphurous substances that stimulate liver function. Finally, if your transit is slow, opt for prebiotic foods. They nourish the good bacteria of your intestinal flora (asparagus, leeks, salsify, garlic, onions...)
Prepare your meals preferably without salt, butter or cooked fat. Replace them with spices, herbs and a drizzle of vegetable oil (olive, coconut, etc.). You can keep it 100% vegan if that suits you. But if you eat animal proteins, opt for fish or white meat, to be reserved for lunch to rest the liver. On the other hand, it is better to avoid red meat.
Overall, the ingredients responsible for an increase in acidity in the body should be avoided:
Hydrate as much as possible. In the morning, drink one lemon juice, preferably organic, in a glass of warm water. Wait 20 to 30 minutes before eating breakfast. This daily reflex vitalizes the liver, stimulates the immune system and gives you energy. Rich in citric acid and vitamin C, it detoxifies your skin cells, while promoting drainage and a better functioning of the digestive system. This beauty gesture is therefore essential during a detox cure. You can supplement it with mint leaves with powerful virtues: stimulation of liver function, antioxidant, rich in iron, manganese and vitamin K.
Make sure you drink enough water throughout the day. Your usual 1.5 liter water bottle is ideally complemented by soups, herbal teas, green tea or white tea. This will help your liver in its work of filtration and purification.
Improve elimination and regeneration with plants and vitamins
For almost a week, the liver, pancreas, kidneys and stomach are overworked, sometimes to the point of saturation. You can stimulate them naturally to regain normal functioning. Various plants have recognized virtues to evacuate toxins without danger. They are therefore particularly recommended. Some can be added spontaneously to dishes, or taken in the form of ampoules (plant extracts), juices or infusions:
Aloe Vera
Lime tree sapwood
Birch
Milk Thistle
Chicory
Cilantro
Turmeric
Ginger
Nettle
Dandelion
Black radish
Rosemary, etc.
Detoxifying your body allows it to reactivate its ability to regenerate and heal. Strengthening your natural system by supplementing your nutritional intake with essential elements also improves your complexion.  A dietary supplement developed for the beauty of black and brown skin has been designed to meet this need. It can therefore be a component of your detox program at the beginning of the year!
Its vegan formula is rich in vitamins C, E and manganese, for an antioxidant action and a powerful fight against external aggressions. The zinc and the vitamin B3 recognized for their anti-inflammatory assets will fight the imperfections. It contains Vitamin D to avoid the deficiencies common in black, dark and mixed skins.
Finally, it is interesting to note that its composition goes further than a simple booster since it was elaborated to act on the frequent problems of hyperpigmentation by reducing the spots. The active ingredients are, in fact, capable of stopping the enzymes responsible for their appearance.
REGAIN A RADIANT COMPLEXION WITH PURIFYING COSMETICS
The second part of your "special holiday detox" consists of removing impurities from your skin with dermocosmetics. We list a simple and easy routine to do at home, for a "detox spa" at home!
Get a new skin: the gentle exfoliator
Choose a non-aggressive cleansing and exfoliating gel for a gentle exfoliation. This gesture rids the skin of dead cells and impurities. It acts in depth and refines the appearance of the skin instantly. It stimulates the regeneration process of the skin cells for a unified and detoxified complexion. It is the essential step to prepare your skin to receive all the benefits of your moisturizing care.
Unclogging impurities: steam bath & vitalizing mask
The targeted action of a mask is ideal for reviving the skin's initial radiance. To increase its effects tenfold, take advantage of the natural properties of a steam bath. Positioning your face over a bowl of very hot water, under a towel, helps to reduce dilated pores. You can add essential oils of your choice:
Rose or jasmine for dry skin
Tea tree or rosemary for oily or acne-prone skin
Grapefruit for combination skin
Lavender for sensitive skin
Choose a mask whose composition purifies the epidermis without attacking it. It should purify the skin cells, absorb excess sebum on problem areas and tighten the pores. But on the drier parts, it must bring a calming and a true comfort to avoid any feeling of tightness after the rinsing.
OXYGENATE YOUR SKIN NATURALLY
To regain balance and, above all, maintain it, it is important to return to the basics: sport and restful sleep. This detox program to start the year is meaningless if you cannot maintain this well-being once the cure is over. It's time to get back into good habits!
Activate yourself to evacuate toxins by sweating
To relaunch the body's purification process, it is of course necessary to engage in physical activity. Even if you are not a jogging fan, taking the time to oxygenate yourself by moving is sufficient.
Walking every day for 30 to 45 minutes, at a steady pace, allows you to effectively evacuate toxins. By sweating, you allow your skin to eliminate them automatically. Go for a walk in nature: the forest, the seaside, on a mountain path, in the countryside or even a city park. Take advantage of the benefits of your environment to recharge your batteries!
You can also plan a complementary sport to start the year on the right foot without necessarily launching into major resolutions. You can, for example, plan a yoga, pilates or online fitness session from time to time. These projects are still achievable and simple to implement.
Optimize waste disposal work...in your sleep!
Sleep plays a central role in the body's processing of waste. Indeed, during the day, the body creates acids and stores them in our tissues. At night, the blood transports them to the various organs of elimination. Thus, a deacidification process takes place.
The liver is in optimal action between 10 p.m. and midnight, only during the sleep phase. This is why we recommend that you go to bed before 10:30 p.m., in order to promote the body's liver and kidney mechanisms.
Accept to let go: it is essential to relax for a few days before going back to work (or telecommuting!). Give yourself those precious nights of sleep. If you still have to get up, consider taking naps, even short ones, without feeling guilty. 10 to 15 minutes after breakfast is enough to feel better.
Feeling a little stressed as the new school year approaches?  Try abdominal breathing with a cardiac coherence application, ideal for releasing pressure, for 5 minutes 3 times a day. Sedative plants, in infusion or in capsules, can also soothe you: chamomile, passion flower, valerian...
The purpose of this detox cure is to give you back your energy and to restore the radiance of your skin in a natural way. In terms of duration, the dietary recommendations are to be followed for 4 to 8 days. However, it is possible to perpetuate your care routine, physical activity and a real sleep ritual for much longer!
Add to favourites