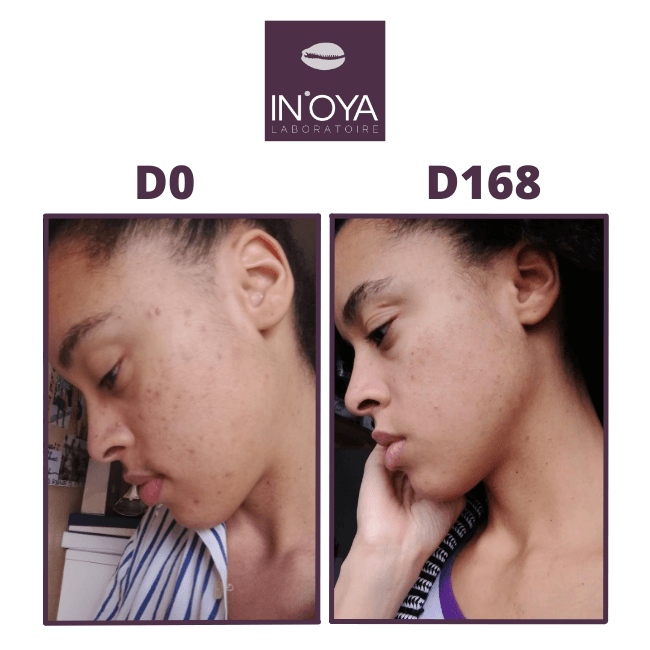 "Hi, I'm Olivia, I'm 28 and I'm the founder of Merci.oli.
I have been fighting acne since I was 12 years old. I have used a lot of products that are found in conventional stores. This has caused me a lot of skin problems in the end: skin irritation and dehydration, etc. I have also consulted dermatologists and dermatologists in the past. I also consulted dermatologists but this did not change the appearance of my skin.
One day I was told about the IN'OYA Laboratory which specialises in the treatment of black skin. I signed up for the OYA Programme to try and win 3 months of products adapted to my problem with personalised follow-up.  Bingo, I won!
From the first time I used the complete range, I noticed that my skin was softer, smoother and more hydrated! 
Then the spots and pimples started to disappear very quickly!
After a month I saw results, I had been fighting acne for so many years. I have been using the whole range for acne and spots for the last 6 months. I am delighted with the results as I have almost no recurrence of pimples, my skin is much smoother and I have almost no spots. My MUST HAVE is still the Moisturising Unifying Care!
If I have one piece of advice to give, it's to be super regular on a daily basis and to use the full range from the start to maximise the results."
Olivia used :
Add to favourites
Would you like to add your testimonial? Nothing could be simpler, just send us an email to contact@inoya-laboratoire.com