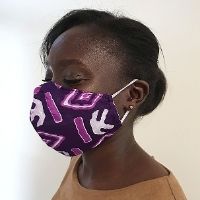 The protective mask is invited in your daily life. This post-containment accessory has become essential at work, in public places. Outside, you want to protect your health and that of others. But in certain situations, keeping it for several hours has harmful effects on the skin. Redness, irritation, dryness or acne: the consequences vary.
Fortunately, you can prevent these skin problems by taking a few precautions. Adapt your traditional beauty routine to take care of your face every day. Find out how by following our recommendations.
SKIN PROBLEMS DUE TO PROTECTIVE MASK
DES BLESSURES SUR LE VISAGE, DIFFÉRENTES ZONES TOUCHÉES
This discomfort can be expressed by irritations, itching. The friction on the face, behind the ears is repetitive. The injuries are logically located at the contact points.
These red marks are often more visible on the nasal bridge. The metal bar intended to hold the mask in good place exerts a certain pressure. Sometimes these wounds are found under the eyes, on the top of the cheeks, on the chin. The lips can also become very dehydrated.
Vigilance is essential. Burns or unpaved lesions may become infected.
MORE RISKS WITH THE SINGLE USE MASK
The consequences on the skin are different depending on the type of mask worn. You sadly saw it by following the news on social networks. You were all surprised by these portraits of caregivers with facial wounds. The damage is greater with disposable masks according to the observations of dermatologists.
They are designed in polypropylene, or in neoprene, and the elastics are in rubber. These aggressive materials for the skin increase the risk of damaging it.
APPEARANCE OR AGGRAVATION OF SKIN PROBLEMS
Dry, sensitive or even atopic skin should be followed closely. They are necessarily more at risk. Specific problems such as eczema, psoriasis, rosacea can be accentuated. Finally, if some people wonder about an allergic reaction, it remains rare. It all depends on your sensitivity to the materials making up the mask.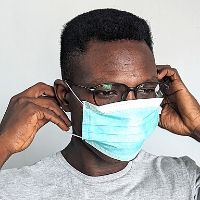 Heat, humidity, lack of ventilation are also the cause of skin damage. By its occlusive effect, the mask prevents the evacuation of perspiration. Maceration can clog pores when the situation lasts for several hours.
Eruption of pimples, more oily skin: the skin over-reacts. It produces more sebum. Acne can appear. It will often get worse if the symptoms were already present.
WHAT TO DO TO AVOID OR REPAIR THIS SKIN DAMAGE?
FABRIC MASK: IDEAL FOR YOUR SKIN
You have no choice but to wear a disposable surgical mask? Insert a nice cloth into it. Remember to change it regularly to limit the inconvenience.
Wearing an alternative cloth mask is recommended to protect yourself from skin damage. It mitigates the risks. The ideal being a natural and gentle material for your face. The friction will be less aggressive.
You are one of the lucky ones, you wear an IN'OYA mask? Admit that this shimmering accessory is also more beautiful! Your positive feedback on our consumer protection confirms the advantages of this choice. Also, remember that its use preserves the environment from thousands of wastes.
WHAT ROUTINE ACCORDING TO ITS SKIN TYPE
Whatever your skin type, the essentials of your usual routine must be respected. Do not miss your cleaning morning and evening. Apply a non-aggressive product, adapted to your specific needs.
We recommend a scrub 2 to 3 times a week. The impurities will tend to accumulate under the mask. This treatment will therefore be indicated to effectively get rid of it.
A majority of black and dull people have combination to oily skin. If this is your case, then you will need to be particularly rigorous about your routine. More reactive, your epidermis will be more vulnerable. Acne should be watched.
Apply an anti-imperfection treatment to regulate sebum production. The texture should remain light to let your skin breathe. If your acne has gotten worse, use a pimple corrector. It will act in a targeted manner and reduce residual marks.
Is your skin dry, sensitive and atopic? You can strengthen your usual ritual. Add a barrier ointment. Insulating, healing, this type of balm can be found in your pharmacy. It will aim to repair your damaged epidermis.
If your symptoms worsen significantly, consult a dermatologist.
CAN WE MAKE-UP AND WEAR A MASK?
You don't have to give up the make-up to wear a mask. It is however necessary to adapt your choices. Lighter, non-greasy textures are essential.
Thinner, tinted cream will often be preferred over foundation. An illuminator applied to the light points may be enough to fix the powder. The lipstick will be replaced by a moisturizing balm. On the other hand, you can accentuate the beauty of the eyes.
Instead, choose high-resistance and waterproof products. Prefer a cream formula for eyeshadows. This is ideal to avoid touching your face. In addition, this texture guarantees the successful makeup of black and mixed skin.
DOES BEARD PROTECT IRRITATIONS DUE TO THE MASK?
For men, the beard protects your face from irritation caused by friction. If you are not wearing it yet, now may be the time. Follow the guide to have a beautiful Afro beard. This solution against friction could seduce you!
Hydration of the epidermis, but also of facial hair is essential. Think about it every day to avoid skin sensitivity or dryness. Beard care is advised by specialists. Sometimes flattened, crushed by the mask, the hairs will be invigorated and nourished.
Since deconfinement, wearing a mask every day has turned your life upside down. This new accessory forces you to review your habits. But you have understood in recent weeks: nothing is impossible. You can continue to take care of your skin while adapting. Supporting you to help you accept these changes is also our mission.
Add to favourites