Not surprisingly, to fight acne and regain a smooth, even and luminous complexion, dermatologists are unanimous on one point. Before camouflaging imperfections with makeup, it is essential to use a specific skin care approach.
But does this mean that make-up should be banned for good? To deprive oneself of this artifice can difficult when you suffer from this skin condition. Often blamed for the aggravation of the symptoms, make-up reveals an interest however fundamental in the success of the treatment.
By opting for safe cosmetics, it is possible to conceal pimples, spots and scars while treating them while treating them effectively, is possible. From then on, make-up becomes a formidable ally to fight against acne and its consequences.
In'Oya explains why and how! 
MAKE-UP & ACNE: WHAT DO DERMATOLOGISTS SAY ?
For a flawless skin, makeup is a must. However, complexion products, which are increasingly effective in terms of camouflage, present a real health risk. And this is even more true for people suffering from acne! Generally speaking, they have oily skin that is prone to blemishes. Sensitive to climatic changes and dehydrated, it lacks radiance.

Excess sebum is found on the whole face or only on the T-zone, for a mixed type. In this case, the cheeks and temples have the characteristics of dry skin. Mild to moderate acne is inevitably accompanied by pimples and blackheads. But in its severe form, this condition also gives rise to cysts, which can cause severe scarring.
Therefore, the daily use of anti-inflammatory and antibacterial treatments is essential to get rid of them. In the specific case of dark skin, an anti-spot action is generally associated to fight against hyperpigmentation. This is a consequence of the complex healing process that is common to these skin types and can be treated at the same time as acne.

Ultrasensitive, pigmented skin requires specific dermocosmetic formulas and gestures. A personalized skin care formula, such as the one proposed by the In'Oya laboratory, has been developed with this in mind. This targeted routine responds to the problems of black problem skin, which is often complex.

When combined with a healthy lifestyle, this complete program, recommanded by dermatologists, creates a synergy called "in & out". It purifies the skin, limits the appearance of new pimples and restores radiance to the complexion. It also reduces the likelihood of the appearance of brown or black spots, or even deep marks.
Good to know: a gentle exfoliating scrub is suitable for dark and acne-prone skin. It will naturally reveal the original radiance of the complexion by eliminating dead cells. By combining it with a purifying mask, excess sebum will have disappeared. The skin will regain a matte appearance almost instantly! To be performed on average once a week.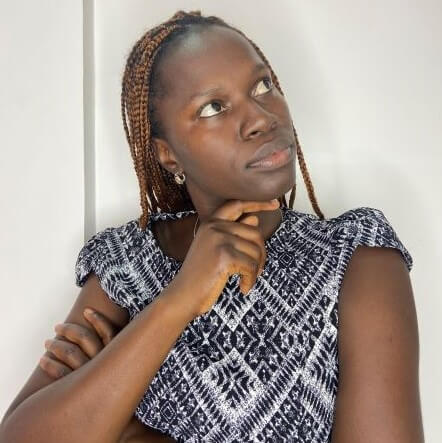 IS MAKEUP A SOLUTION FOR ACNE ? NO, AN ALLY TO ERADICATE IT !
 Of course, makeup should not be considered as a solution against acne. But when faced with the inconvenience of this dermatological condition, masking pimples and spots is a precious help. Make-up really helps to keep self-confidence. This is why it can be a real ally, supporting a global care protocol. Indeed, it is sometimes necessary to wait a few weeks, or even several months to find a beautiful black skin, clear, smooth and bright!

Thus, camouflaging imperfections with adapted products allows you to wait, without cracking, for the first results of an anti-acne and anti-spot treatment. This recommendation is particularly true for people suffering from severe acne. In fact, this condition, in its most severe form, often has psychological repercussions.

Therefore, makeup helps them to keep their spirits up and to persevere. With their motivation preserved, they can seriously follow their anti-acne care protocol. They regain their self-confidence, even before the pimples and spots disappear.
MISTAKES TO AVOID WHEN PUTTING MAKEUP ON ACNE SKIN
This being said, even with mild or moderate acne, it is essential to be careful when applying makeup. Indeed, whether dermatological problems are occasional or more serious, classic mistakes are to be avoided!

First of all, it is important to avoid touching your face without washing your hands first. Also remember to clean your brushes regularly, because acne-prone skin is very vulnerable to bacterial development. Finally, the choice of products that you will use on your sensitive skin must be the subject of real vigilance.
Indeed, by applying poor quality make-up on the face, the risk of seeing a cosmetic acne outbreak is high. Like post-sun acne, this condition occurs in reaction to skin aggression. Therefore it can occur on dry or normal skin! Dermatologists explain that this phenomenon is frequent with "low-end" foundations or tinted creams, whose composition is often enigmatic. When a makeup formula is of good quality, it does not block the pores. For it to be suitable for acne-prone skin, its texture must also remain fluid upon application. That is to say that it is both light and broadly covering.
Generally, a few uses of an inappropriate product are enough to notice the aggravation of acne. Sometimes, some of them cause allergic reactions, such as eczema (lesions, itching and patches) as a bonus.
To avoid these problems involving one or more components of the makeup, it is recommended to turn to "non-comedogenic" formulas. Hypoallergenic, they must not contain parabens or other controversial ingredients. Laboratory tested and controlled, they must be 100% reliable. Generally, if the brand is recognized and the composition of the products is easily accessible, the online purchase can be made without too much risk. Otherwise, turn to your usual pharmacist, especially if he or she specializes in cosmetics for dark skin. From then on, you can prepare your "radiance of the complexion" vanity with this health professional, in complete confidence. 
WHAT MAKE-UP TO CHOOSE TO HIDE PIMPLES AND ACNE SCARS ?
To cope with acne, while preserving one's psychological well-being, a covering makeup mainly focused on the complexion is recommended. Effective but invisible, it aims to totally camouflage pimples, cysts, spots and scars. This make-up will skilfully conceal these skin irregularities, with the aim of enhancing the natural harmony of the face. Its "healthy glow" effect will appeal to most of you, as it can be easily adapted to different daily outfits.

When faced with an unexpected event such as an afterwork, a touch of mascara and a touch of gloss will enhance this beauty look. For this natural and undetectable makeup, the priority is to smooth and unify the complexion perfectly. The skin will then have a velvety and luminous aspect. Before starting to work on the complexion, it is essential to apply an anti-acne treatment.
For best results, make-up professionals recommend selecting the following products from a range suitable for acne-prone skin:
The mattifying foundation smoothes the skin and prepares it to receive makeup. Its fluid texture blurs imperfections. Of course, it is possible to apply foundation directly after the day cream. But this invisible care, also called primer, is an effective way to obtain an excellent holding of the make-up, while protecting the skin.
 On black and mixed-race skin, the use of a complexion corrector is effective in camouflaging hyperpigmentation and blemishes. Depending on your skin tone, it will be yellow or orange, to impeccably conceal irregularities and other imperfections. This creamy texture, often presented in a stick, is always applied before foundation, with light tapping. But it is not necessarily useful. In fact, some products are sufficiently covering to camouflage pimples, spots or even scars.
BB Cream & CC Cream - Foundation alternative or Primer substitute
A BB cream or CC cream is ideal for perfecting the complexion. These "healthy glow" formulas exist in a version adapted to oily skin with a tendency to acne. Matifying, they prevent the rapid reappearance of surface shine and naturally beautify the complexion. Their corrective power evens out skin tone, as if by magic. By reflecting light, their specific color pigments accentuate its original radiance. Their coverage varies from light to medium. Sometimes considered insufficient in cases of severe acne to perfectly mask imperfections, they can be converted into a foundation.
Neither too light nor too dark, the foundation must match the skin tone. Completely in harmony with the natural tone, it will effectively camouflage pimples and spots and blur other irregularities. Therefore, the choice of the shade must be made by testing it beforehand. Moreover, a second foundation is sometimes necessary to cover the depigmented areas, in order to perfectly even out the complexion. Good to know: If you opt for a liquid texture, the use of a sponge is preferable to guarantee an even result on the whole face. And of course, don't forget to spread the product over the ears and neck to avoid sharp lines.
Concealer - Concealer - Highlighter
It is possible to add an extra touch of radiance with different corrective or illuminating makeup products: circles, concealer, illuminating pen, or even highlighter. These products are distinguished from foundation by their lighter shade than the natural skin tone. 
Some brands even combine these lenses to offer an all-in-one formula! They are applied on strategic areas, in order to attract attention, or to brighten up darker areas. Thus, the material will be applied delicately on the bridge of the nose, the cheeks, the chin exposed to the light, or under the eyes. A highlighter can be used as a blush to enhance the cheekbones.
To finalize this "camouflage" make-up, mattifying powder is essential. It sets the whole look and effectively delays the return of shine on the T-zone. The loose version is preferable to the compact, for its translucent, light and natural effect. To go further, discover how to make up your eyes and lips with a natural complexion. Find our tips in our article dedicated to nude make-up trends for darker skin.
Add to favourites