The French Heart Association for West Africa is an initiative of Mohamed LY Professor of Thoracic and Cardiovascular Surgery, Lucile HOUYEL ardiopediatrician at Marie Lannelongue Hospital since 1990 and the late Bertrand HAG specialist in resuscitation anesthesia.
The objective of AFCAO is to operate, inform and educate. The main actions are first the carrying out of ad hoc humanitarian missions in Africa in cardiovascular and thoracic surgery dedicated to adults and children. They operate in various West African countries such as Burkina Faso, Côte d'Ivoire, Mauritania ...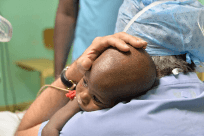 AFCAO collaborates in a spirit of partnership with other national or international organizations, associations, foundations, and NGOs pursuing goals like their association in order to mobilize human, material, financial and technical resources to carry out their programs for the West African population. 
In this month of February when the World celebrates love and the heart, the IN'OYA Laboratory decided to support the AFCAO by donating 1 € to each order from the online store from 02/10/2020 to 02/17/2020.
Take care of your skin by doing a good deed!
We donate 1 € of your order to the association of the heart AFCAO
Offer valid from 02/10/20 to 02/17/20 without minimum purchase