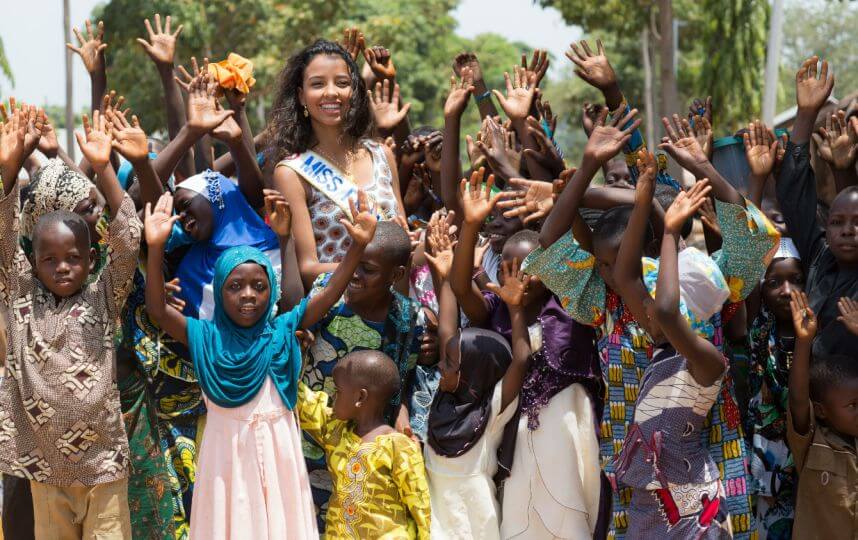 EVERY MONTH, THE IN'OYA LABORATORY OFFERS YOU TO MEET ONE OF ITS PARTNERS AND COLLABORATORS!
The guest of the month of July 2018 is Flora Coquerel, Miss France 2014, entrepreneur, influencer and promoter of the association Kélina that helps Beninese children.
This month we went to meet Flora Coquerel to learn more about the Kelina association and its news.
Can you introduce the Kélina association in a few words?
The association Kelina is an association that I created in 2014 with my parents. Our goal was to develop the health and education sectors in Benin specifically because I am French-Beninese and my mother is from northern Benin. Our first project is the construction of a maternity hospital in Benin.
Tell us about Kélina's news and the projects you are currently working on?
The news Kélina is therefore the construction of maternity. We are fortunate to have a building that is already built thanks to the donations we have already received. The big project is to finish this construction and start the development hoping to finish in 2019.
Why did you choose to collaborate with the IN'OYA Laboratory to help Beninese children?
We had the chance to meet IN'OYA, this cosmetic brand dedicated to black and mixed skin. I think there is a real link, a real story between IN'OYA and Kélina and we had a nice proposal from them that we of course accepted.
How to make a donation to the Kélina association?
To make a donation to the association kélina it's very simple. You can order your products on the IN'OYA online store, and for each order the IN'OYA Laboratory will pay € 1 to the Kelina association. Also, we have a website www.kelina.fr on which you can directly donate.
We can not let you go without asking for your best beauty advice for our OYAs?
(Laughter) I do not know if they are the best! First you have to take good care of your skin. Especially in the evening, it is very important to clean and moisturize your skin after a long day to remove all pollution and makeup. You have to drink a lot of water to do good from the inside.
And finally, use IN'OYA products !
Add to favourites